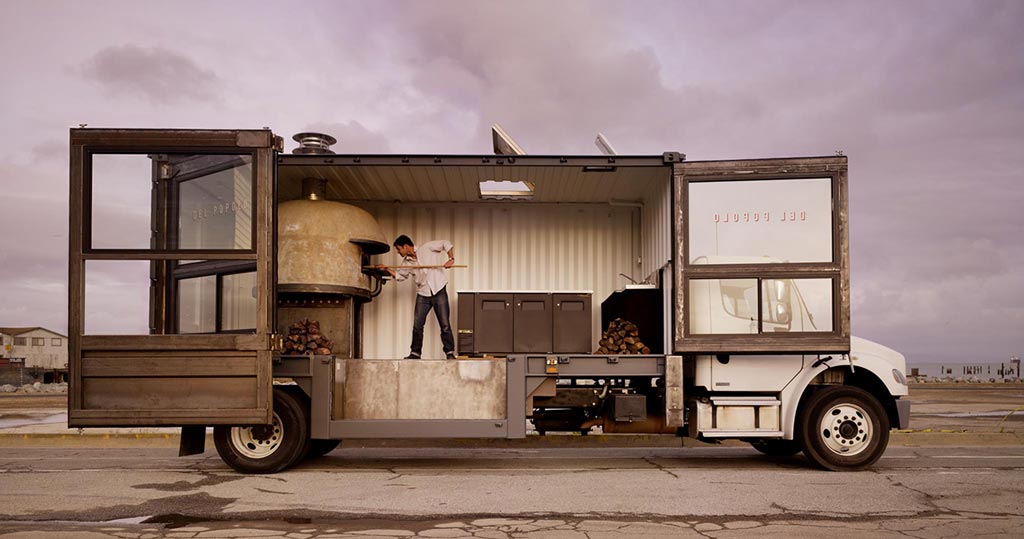 Because they're versatile, durable and portable, shipping containers are increasingly being used as a low-cost alternative to traditional building materials.
Here we consider a few of the more innovative or unusual uses of shipping containers, from swimming pools to shopping centres.
Swimming pools

Badeschiff, which means "bathing ship" in German, is a public shipping container swimming pool located in Berlin.
Submerged in the polluted River Spree, Badeschiff allows locals to feel like they're swimming in the river, without suffering the potentially harmful effects of contact with the contaminated water.
Shipping container swimming pools like this are also becoming increasingly popular in private residences. Once painted with anti-corrosive paint and lined with insulation foam and a pool liner, a container can serve as a fully functional swimming pool.
Medical clinics

Clinic In A Can is an internationally recognised company that transforms shipping containers into medical clinics. So far, their re-purposed shipping container clinics have been used in Haiti, Sierra Leone, the Philippines, Nicaragua, Nigeria, Kenya, South Sudan, the United States of America, the United Arab Emirates and Saudi Arabia.
These innovative medical centres make healthcare more accessible to those in rural and underdeveloped areas, allow for cheaper medical care in impoverished areas, and provide non-profit organisations with mobile emergency medical care units.
Greenhouses

CropBox is just one of a number of companies that specialise in adapting shipping containers for use as greenhouses.
A shipping container greenhouse isn't only mobile; it's also a great space saver. By vertically stacking crops, 2,043 square metres of planting space can be created in one standard container. The containers can also be stacked up to five storeys high, keeping the ground space required for two hectares of lettuce, for example, to a mere 30 square metres.
Mobile restaurants

Shipping containers have been re-purposed around the world to function as restaurants and food kiosks. However, this San Francisco pizzeria is slightly different.
The Del Popolo pizzeria has been fitted on the back of a truck to make it permanently mobile. The restaurant, complete with a glass wall, which allows customers to watch the chef at work, is even fitted with a traditional wood-fired pizza oven, imported from Naples.
Shopping centres

27 Boxes is a new South African retail space, located a short distance west of Johannesburg, in the trendy Melville shopping district. The mall consists of 27 used shipping containers, stacked three storeys high, and is modelled on similar projects in Paris, London and Christchurch.
Schools

Shipping containers are increasingly being used to house schools and classrooms. Vissershok Primary School, a local school in Dunoon, Cape Town, is one example.
At the school, a re-purposed shipping container serves as a classroom for 25 Grade R pupils during the morning, and as a library for the entire school in the afternoon. The classroom, which was built in 2010, was sponsored by three South African companies, who funded the container classroom, as well as a pavilion area, jungle gym and vegetable patch outside.
Shipping container offices

Shipping container offices are popping up on every continent, and one great example is the brightly-coloured Riverside Building, located at the London Docklands.
Built in 2005 over a period of just eight days, the Riverside Building is the third shipping container block built at the wharf. The five-storey building is constructed from an impressive 73 shipping containers and houses 24 offices, each of which has eco-friendly features such as natural ventilation, rainwater harvesting and light-sensitive external lighting.
Shipping container housing

Shipping container homes are becoming popular the world  over. In Cape Town, for example, Berman-Kalil Housing Concepts designs container homes to resemble traditional housing. The housing options offered by the company include 6 metre-long bachelor pads and 12 metre-long, two-bedroom units.
At Big Box Containers, we specialise in renting and selling high-quality shipping containers, including containers converted for a range of uses – from offices to ablution blocks. Contact us for a quotation or to find out more.
Contact BigBox today for a free quote!