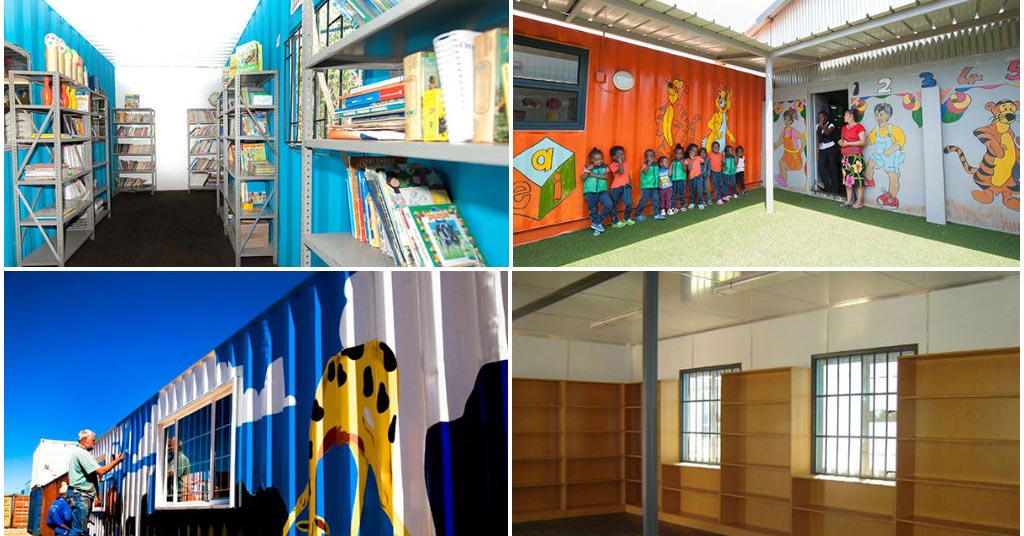 If your company is looking for a real way to make a difference in South Africa, why not consider sponsoring a fully converted container library or classroom for a school where it's really needed?
Shipping containers are proving a boon for the education sector, where space and funds for brick-and-mortar classrooms is often scarce. It's easy to see why containers offer a solution. They're durable, scalable and portable, and can be modified relatively easily to suit different purposes.
For example, one or more containers may be converted into a school library, complete with bookshelves, suitable flooring, bright paintwork, locks, air-conditioning and electrical and light fixtures.
Why libraries?
Literacy is key not only to education, but to reducing poverty and developing our country. This is what's motivating a range of adult and child literacy projects, such as the government's Kha Ri Gude mass literacy campaign, the NGO-led Project Literacy and projects supported by groups like the DG Murray Trust.
In a country where books don't come cheap, libraries are essential to literacy. We need more of them. And this is where the container-as-library can play a vital role in South African communities.
Container school libraries
Corporate CSI initiatives and book festivals have ensured that colourful, well-stocked library containers will bring the world of words to communities across the country. The Franschhoek Literary Festival, for instance, raised funds for a container children's library in nearby Groendal.
The largest, most encouraging example of an effective roll-out of container libraries comes from Breadline Africa and the Nelson Mandela Foundation's Mandela Day Library Project.
Every year, 12-metre containers adapted to serve as libraries are painted and prepped by volunteers doing their bit to support Mandela Day, on 18 July.
These container libraries are then presented to schools in disadvantaged areas. Since the first Mandela Day container library was opened in 2011 at the Tsakane Primary School in Gauteng, over 50 libraries have been donated. The libraries serve thousands of children, as well as community members.
Other educational facilities
There's a growing list of international and local projects in which shipping containers have been incorporated into educational facilities.
In a design that was applauded at the time, the Tsai Design Studio worked on a limited budget to make an innovative shipping container classroom in Vissershok Township, outside Cape Town.
In London, there's the Shooter's Hill School expansion project, in which an extra 7,200 square feet of classrooms and workshop space was added in just two days. There's also the Fawood Children's Centre, where multiple-storey container structures allow children, adults and kids with special needs to learn.
In California, the Costa Mesa Waldorf School added four new buildings to its campus using an eco-conscious design incorporating 32 shipping containers.
At Big Box Containers, we supply top-quality shipping containers. We can also handle all aspects of converting containers into decent, attractive environments that encourage both children and adults to read and learn. Read up about our container libraries and container schools, or contact us now to find out more.
Contact BigBox today for a free quote!