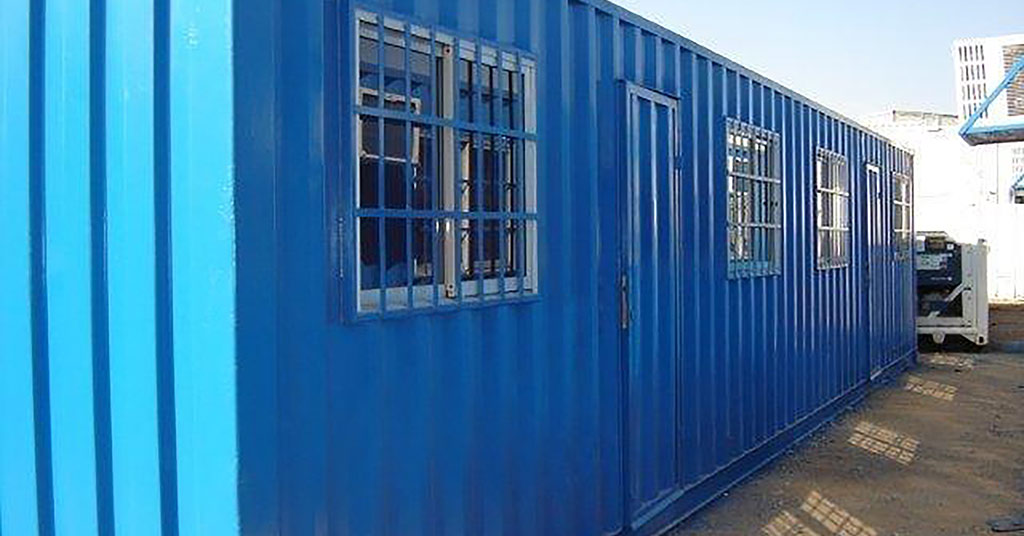 In recent years, increased urbanisation, migrancy and environmental awareness have fuelled the growth of innovative alternative building technologies and housing solutions, as well as a turn to smaller living.
Architects have embraced the concept of modular homes, while environmentally sensitive designers have sought out sustainable ways to house people more lightly on the earth. Against this backdrop, more and more of the reported 17 million shipping containers worldwide have been repurposed to serve as environmentally friendly housing.
Container homes make economic and environmental sense. They're relatively easy to repurpose; they're quick to set up and can be moved to new locations without too much effort; and they're low maintenance.
A mobile, eco-friendly alternative to traditional housing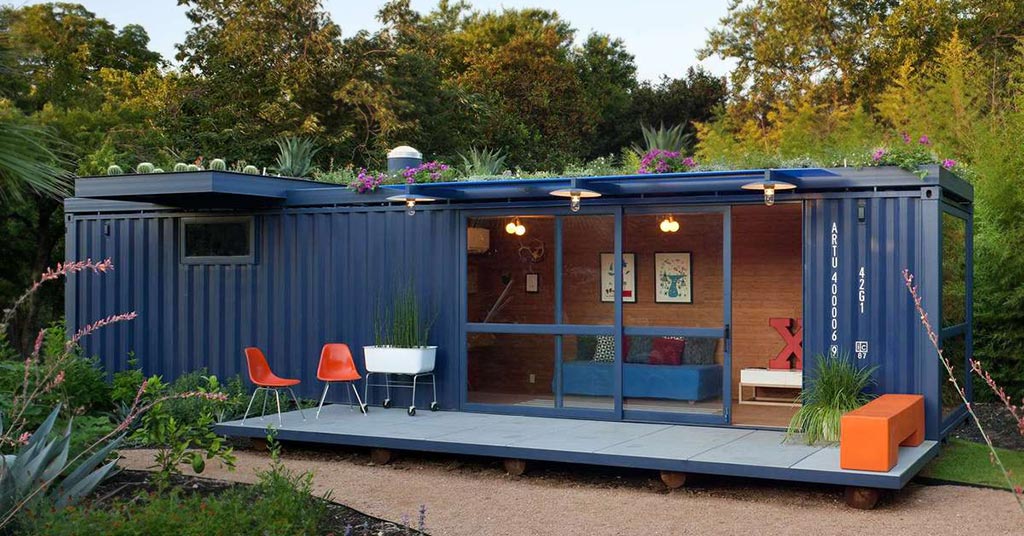 The global trend of repurposing shipping containers in architecture and building developments is seen in glossy magazines, on news groups and in social media. Several stories of people taking advantage of the potential housing offered by shipping containers have captured the world's attention.
In the UK, ITV ran a story of a young professional who wanted to be mortgage free and yet live in a great location. So he sold his flat and used the money to create a nifty container home on UK's Bedford Marina. After the episode, ITV was apparently inundated with feedback from viewers wanting to do the same.
In Australia, a couple who decided to live closer to the earth moved from suburbia to the bush, where they lived in two containers, converted so they could live off the grid. After sharing their story on YouTube, they generated so much interest that they wrote an ebook on how they did it.
Low-cost housing for those in need

Container homes are not just for private, or individual, use. They can meet social development needs too. In East London, for instance, the YMCA worked on a charitable project to offer container homes to new workers struggling to afford city rentals. Brighton's Housing Trust also used container homes to give people forced to live rough a place to call home.
An international competition to develop low-cost mass housing in Mumbai, India was won by an architecture firm that proposed a skyscraper made from stacked containers, reclaimed from Mumbai's nearby shipping ports.
Containers have been used for student housing in countries as far afield as Israel and Holland.
Then there's the need for emergency housing during times of environmental or humanitarian crises. Recently in Europe, shipping container homes have been used as short-term accommodation for refugees. In Helsinki, Finland, and Germany, containers were agreed to be a better option than tents, which don't offer enough protection against the winter cold.
The South African housing challenge
It's no wonder, given the benefits of containers as homes, that they're hailed by many as a possible, practical solution to housing crises, such as the one facing South Africa. While the government's Reconstruction and Development Programme (RDP) has seen more than 2.6 million homes built since 1994, the backlog (and waiting list) is considerable. Around 2.3 million families are said to be in need of housing here.
Also, not everyone qualifies for a government-subsidised home. Plenty of people who will never be able to afford homes of their own fall outside the housing subsidy bracket. Families that earn more than R3,500 a month don't qualify for an RDP house.
Adapted shipping container homes, refitted to be as comfortable as any other home, could be the solution. A container home costs less to set up than an RDP house costs to build; and delivery takes weeks, so there's less building time and less waiting time.
Despite the increasing use of container homes across the world, there are certain lingering negative perceptions about it. It's not the conventional bricks and mortar building, and corrugated iron is often associated with shacks in informal settlements.
However, as more developments take advantage of cleverly redesigned containers, perceptions are shifting. Containers are increasingly used in high-income areas, for instance when home owners have invested in costly land but want a low-fuss way of living on that land without having to wait for years to save to build.
Containers in innovative SA developments
In South Africa, like elsewhere, people are making increasingly creative use of converted shipping containers.
Apartment blocks made from shipping containers
SA's first shipping container housing development, in Jo'burg's Winsor East, was finished in 2012. The three-storey development, made up of 15 units, took only four-and-a-half months to build. A comparable bricks and mortar complex would most likely have taken a year to complete.
In an article for MoneyWeb, property developer Paul Lapham described the thinking behind the project: "How do we get good homes to people at an affordable price? Building conventionally doesn't let you do it. Container housing has been touted internationally as a cheaper alternative, by 20% to 30%."
At first, a local lobby group opposed the project, believing the freight containers to be sub-standard housing. But even the lobby group's chair, Louise Mynhardt, changed her mind once the project was complete, saying: "As we've watched it grow, it's been amazing. What they are doing will have a positive result in the community. I think it's a marvellous example of using alternative materials. The neighbourhood has a new zest for life."
Student housing from shipping containers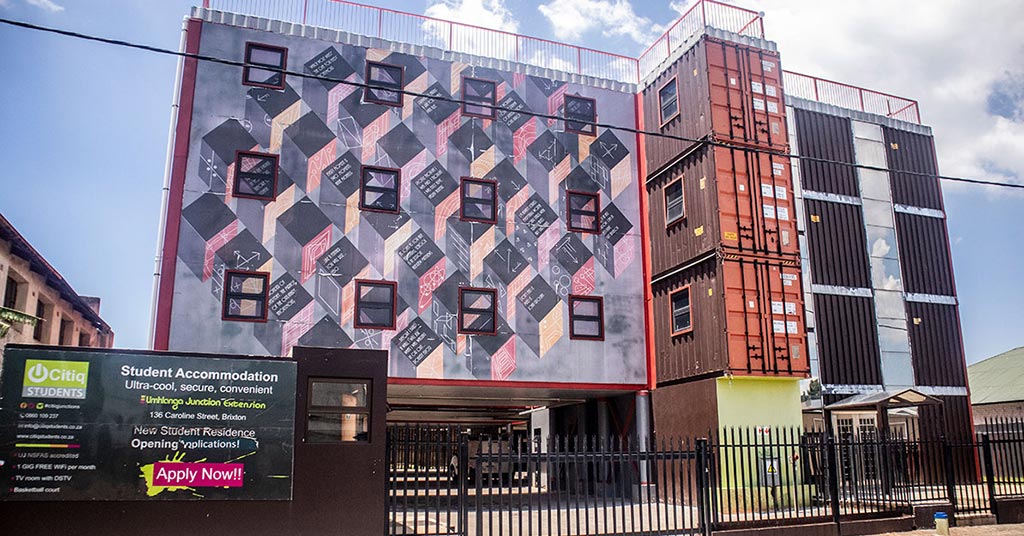 Like Israel and Holland, shipping containers are used for student living here too. Umhlanga Junction Extension, a 75-bed student apartment block in Brixton, was erected in only two months. It boasts six floors, each with single and double accommodation, a communal kitchen and dining area, a recreation room, a lounge and a laundry. The development shows how containers can be used when architects "go vertical" to solve the problem of accommodation in urban areas.
Shipping containers converted into retail spaces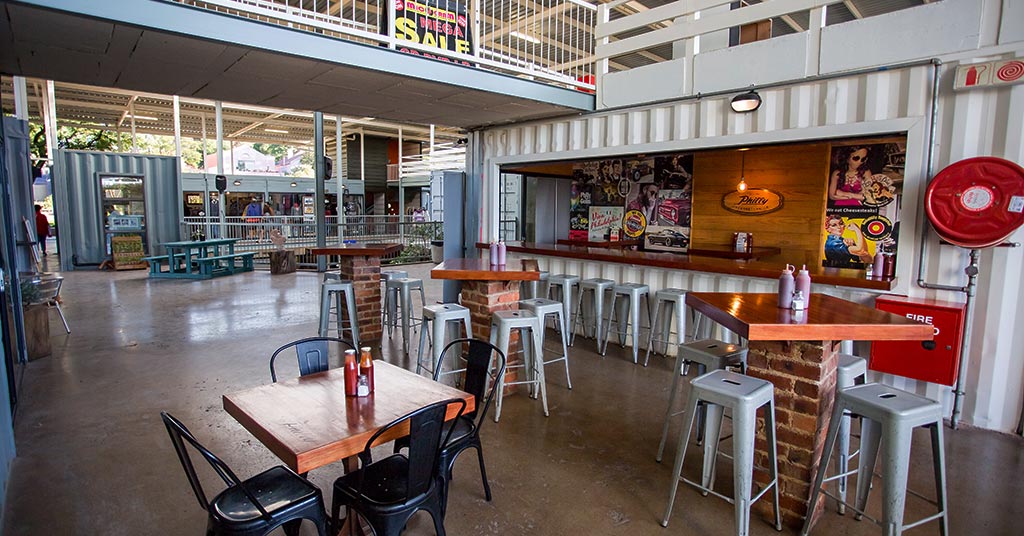 Containers are being used to fill a gap in retail trading. With the economic downturn, retailers have had to cut their overheads and rentals have gone up. Container shops are quick to build, cutting construction time by as much as half.
27 Boxes, the shopping centre that opened in August 2015, is made up of 27 containers that allow smaller traders to still grow and profit. The complex was lauded for its novelty factor – it's part market, part mall; it's visually interesting and it gives Jo'burg shoppers an alternative to the mega malls.
At Big Box Containers, we convert high-quality, steel shipping containers for a wide range of purposes, including housing units, as well as event spaces, shops, libraries, offices and computer centres.
Contact BigBox today for a free quote!