Shipping containers can be reconfigured into compact, functional and surprisingly comfortable office space. Container offices are affordable, easy to move and fully customisable – and they're available for both sale and rent.
Office containers: from basic workspaces to executive suites
Big Box Containers offers container offices that range from basic, functional workspaces to large, air-conditioned executive suites.
A single 6-metre container can be fitted with a door, windows, wall panelling, suitable flooring, lighting and power points, making it instantly useable as office space, on temporary work sites or added to existing business premises.
Alternatively, opt for a 12-metre container office, or for multiple, connected containers, with or without insulation and air conditioning.
It makes sense to buy an office container if your need for office space is unlikely to change in the near to mid-term. In other cases, companies can benefit from renting container offices just for periods when office space is needed.
This is much cheaper, faster and less disruptive than renting commercial property or building brick and mortar structures, especially if a company's needs are likely to change in the foreseeable future.
Big Box combo offices
For convenience, Big Box Containers also offers "combo" container offices in Cape Town. These are divided to provide both office space and storage space, ideal for equipment, tools, spare stationery or inventory, uniforms and more.
This is a perfect, cost-effective solution for construction sites and other temporary worksites, and for small businesses and entrepreneurs. Simply rent a container that combines office space and storage, and have it placed right where you need it.
Big Box office containers for rent with built-in features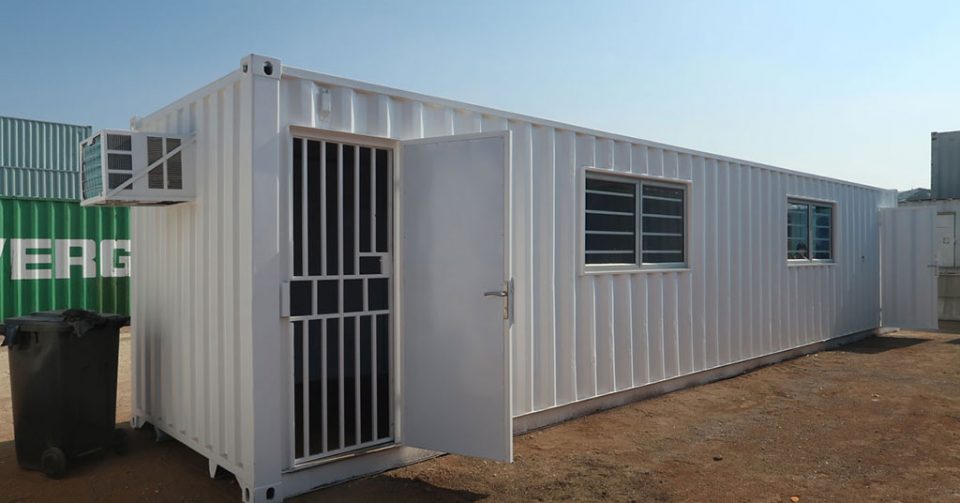 Big Box Containers offers ready-made office containers that are suitable for a wide range of applications, from construction sites, events and film locations to factory premises and worksites on mines, roads or farms.
Each ready-made container office includes:
windows
a lockable door
power points
wall panelling
suitable flooring.
Air conditioning and insulation are optional. Additional features, such as shelving, carpeting and even plumbing, can also be installed on request.
Why use Big Box as your office container supplier?
Big Box Containers is a leading provider of high-quality office containers, as well as storage and refrigerated containers, in South Africa. We have over two decades of experience and our teams are experts at meeting clients' unique needs.
If you need affordable office space without all the costs and delays associated with renting or building from scratch, contact our branch in the Mother City for the best office containers in Cape Town. We also have branches in Johannesburg and Pretoria.
Contact BigBox today for a free quote!