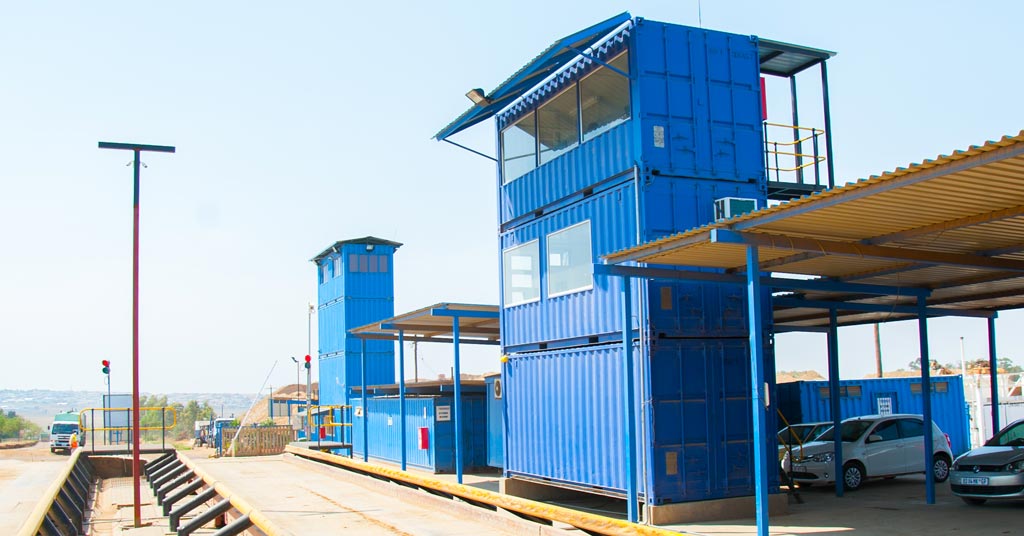 On mining and construction sites, office buildings provide essential space for administration, computers and communications equipment and storage of paperwork.
The types of structures available
Office structures on work sites can be permanent, modular or mobile.
Permanent buildings are constructed on site. Modular buildings are manufactured remotely, delivered in parts and assembled on site. Mobile buildings, such as repurposed shipping containers, are delivered fully assembled.
The suitability of a particular structure will depend on factors like the budget and duration of your project, weather conditions, the local availability of materials and site-specific requirements.
For example, local regulations may restrict the type and size of structure you're allowed to erect at a particular site.
Why choose a mobile container office?
At mining and construction sites, mobile offices – such as Big Box's container offices – have several advantages over permanent structures.
Perfect for any location
Construction of a permanent building requires proper zoning, permission from relevant authorities and proper site preparation. Of course, it also requires suitable materials (which can be expensive not just to buy but to transport) and construction skills.
The requirements for modular buildings are generally simpler, but their components must still be transported and then assembled on site.
In contrast, mobile offices arrive fully assembled and can be set up just about anywhere with sufficient space.
They're fully portable, making them an ideal choice for remote locations, and can easily be moved from one site to another. This can save a significant amount of time and money.
Timely
If you need a building in a hurry, a mobile office is a practical solution. It's ready for use almost immediately, upon delivery to a site.
Construction of a permanent building takes time. It's also prone to delays due to adverse weather conditions, difficulty accessing materials and limited availability of construction experts.
With Big Box Containers, it's possible to order a mobile office and have it by the following day. If customisation or conversion work is needed, delivery can typically be made within two to three weeks of placing an order.
Affordable
A modular or mobile office is a cheaper solution than building a permanent structure, due to requirements in terms of both materials and expertise.
With Big Box Containers, you can rent an office container for the duration of a project, rather than having to buy space you won't need once the project ends.
Another key advantage is that a mobile office can be relocated and reused. So once a project at one site ends, you can simply move your office to a new site – or, if you've purchased it instead of renting, resell it.
Up to code
Container offices go through a number of inspections during their prefabrication, which occurs largely at the provider's site.
This means that by the time they arrive on your mining or construction site, they can already meet specified building regulations.
Fully customised
Big Box Containers specialises in conversion work, tailoring container units to suit customers' needs.
When providing offices for mining or construction sites, for example, we can meet requirements in terms of the placement of windows, doors and security fittings; shelving; electrical outlets; lighting; flooring; plumbing; insulation; ventilation and air conditioning.
If and when necessary, multiple units can be combined to provide more office space.
Secure and durable
Our container offices are built from marine-grade steel, making them weather and vandal-proof, and highly durable. Unlike most permanent structures, they also require very little maintenance.
At clients' direction, we can also install suitable bars, security doors and locks, to secure windows and doors.
This means you can leave a container office at an outdoor mining or construction site with peace of mind.
Big Box Containers offices