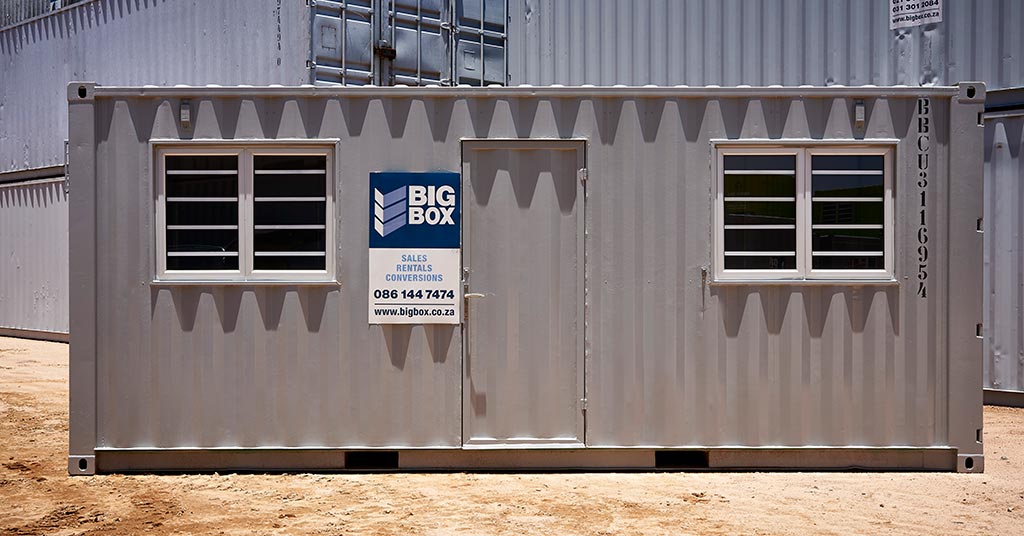 Spacious, trendy and quick and easy to set up, container offices are becoming a game changer in South Africa's established and emerging economies.
Entrepreneurs and local business owners with limited resources now have access to low-cost premises that are easy to locate in the heart of the communities they want to serve.
From constantly expanding township hubs to upscale malls and ad agencies, re-purposed shipping containers have become fun, funky and alternative building blocks to conventional brick and mortar.
Let's take a look at a few local and international container projects that are re-inventing the concept of office design and space.
Philippi Village Container Walk
The Philippi Container Walk is a unique retail, recreational and business centre set in the heart of the Philippi township in Cape Town.
It consists of 100 or more colourful shipping containers that have been stacked two-high on both sides of the walk.
The idea behind the development was to get independent traders and entrepreneurs off the streets and into robust and secure premises, while still being accessible to their core clientele.
As South Africa's poorest communities lack formal infrastructure, the container-based shopping and services experience is a popular alternative for informal traders and small business owners who were previously operating on the streets or out of their homes.
99C's Welcome Centre
Cape Town advertising and communications agency, 99C has integrated a standard 6m shipping container into its office design.
The bright burnt orange unit has been customised into an open-plan welcome centre, and features an informal meeting area laid out on its upper deck.
The unique and visually exciting design element is the focal point in the vast glass and chrome lobby, and blends in beautifully with the industrial, utilitarian design of the building.
27Boxes Melville Mall
Melville in Johannesburg is home to the first-ever retail and office centre constructed solely from refurbished shipping containers.
27Boxes was designed with creative, independent entrepreneurs in mind, and today it is the chosen business premises of artisans, designers, retailers and artists.
Single and double units, arranged on multi-levels and featuring inside and outside aspects, have been kitted out for a wide range of applications and rotating pop-up stores.
It's a modern and wonderfully creative alternative to traditional office and shopping space.
The Startup Village in Amsterdam
An enterprising developer has transformed a derelict plot of land in Amsterdam into a low-cost space for startups.
Dozens of old shipping containers have been given a bright new life as upcycled offices, networking spaces, event venues and lecture rooms.
The development is intended to be a temporary solution for young struggling entrepreneurs, and once it has fulfilled its purpose, the containers will be moved to another location to help a new batch of business boffins.
South London's Pop Brixton Container Park
Pop Brixton is another successful container development that caters for independent businesses and events. It, too, is located on a disused piece of land, this one near Clapham in south London, and is primarily targeted at local business moguls.
Pop Brixton is a shabby chic tribute to the versatility and re-usability of old, unwanted shipping containers that have done their duty on the high seas!
Key advantages of container offices for entrepreneurs
If you're still not convinced containers are practical alternatives to mainstream offices, here are the key advantages:
Portable: Container offices are easy to transport to new and emerging markets, anywhere.
Customisable: You can paint, clad and insulate a container, add windows, doors and a roof; plumb it; electrify it, and roll out the Wi-Fi. You can join one or more units together for extra-large office space, or you can downscale to any size and dimension you so desire.
Spacious: Containers are designed to store and transport huge volumes of goods. As a result, they make spacious and comfortable premises that can be up- or down-scaled on-demand.
Environmentally friendly: By revamping and recycling a used container, you're doing your little bit for the planet.
Quick set-up: Container offices take a few weeks to customise, and only three to four days to set-up.
Why Big Box is first choice for entrepreneurs
Big Box Containers is South Africa's leading supplier of new and used shipping containers.
We rent, sell and convert high-quality shipping containers for a range of purposes, from shops to event spaces, computer centres and ablution facilities.
Contact us online or call us on 0861 447 474 for a quotation or to find out more, and we'll be happy to help.
Contact BigBox today for a free quote!