Shipping containers are the perfect building blocks for all sorts of structures: accommodation, mobile food stands, galleries, restaurants and even skyscrapers.
A number of ingenious container coffee shops around the world have caught our eye. These are our favourites.
Roast Republic, Johannesburg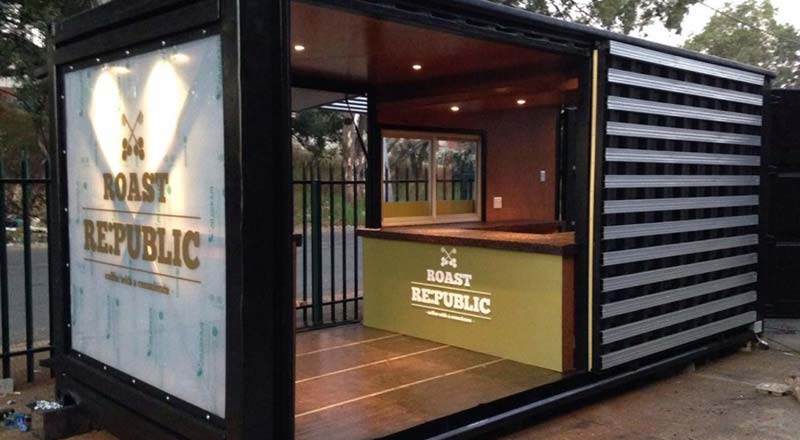 This shipping container was transformed into a chic coffee shop by a non-profit organisation. It was designed for easy installation and incorporates repurposed and recycled materials to make it as eco-conscious as possible.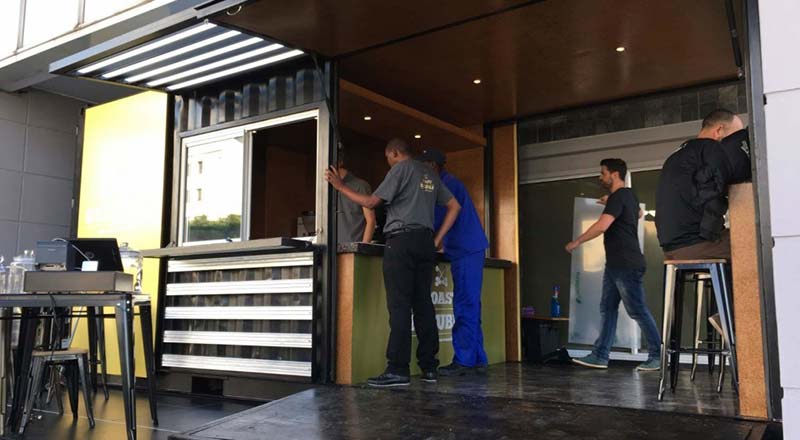 Roast Re:public, the roastery that operates the coffee shop, employs young, previously disadvantaged entrepreneurs to run the franchise.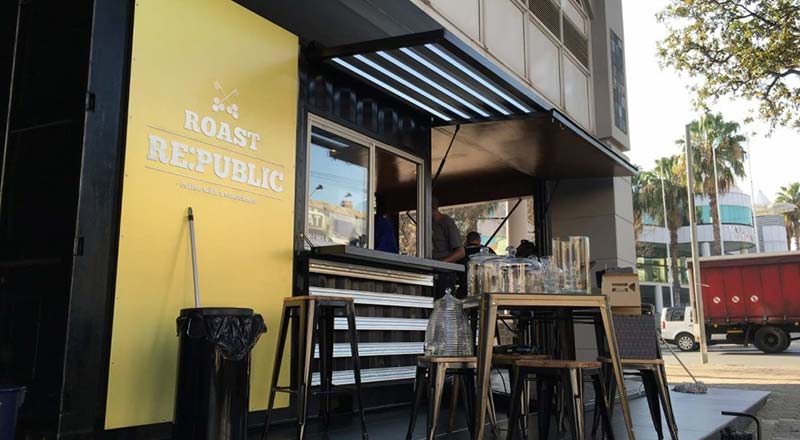 Images: Inhabitat
Illy Push Button House, New York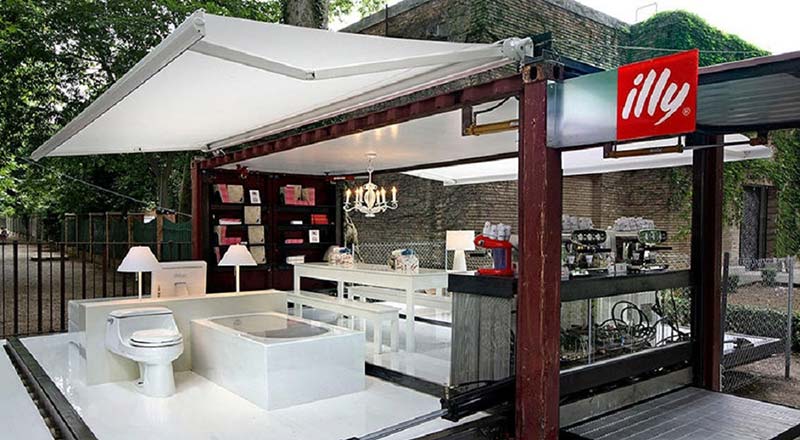 Originally created as a tiny house, this shipping container was later converted into a coffee shop by the original designer, Adam Kalkin. He removed the furniture and fittings, replacing them with tables and a coffee bar.
What hasn't changed is how the unit folds back into the size of a single shipping container, with little to suggest that it holds anything like a fully-functioning coffee shop or, formerly, a house.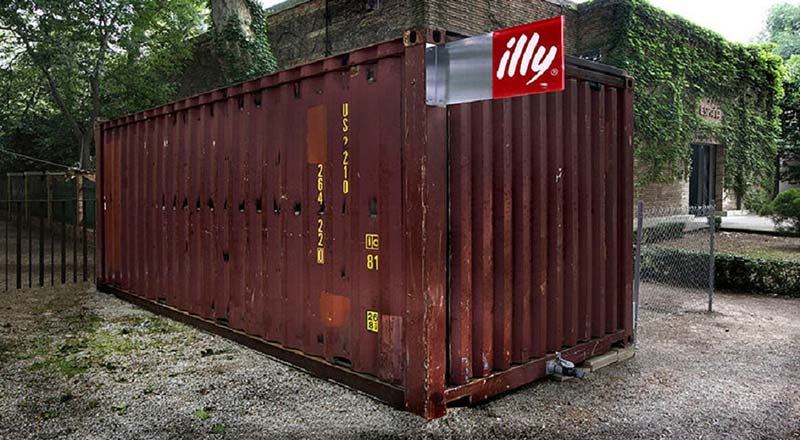 Images: Shipped
Foghound Coffee Shop and Showroom, Midrand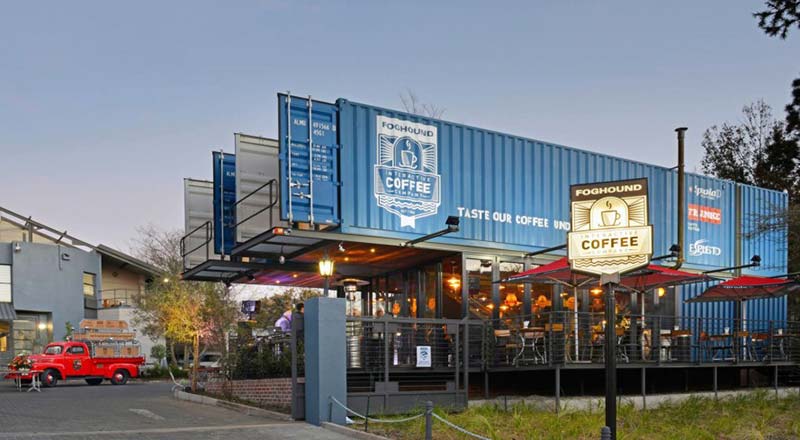 This impressive structure is made with stacked and cantilevered shipping containers. It houses a coffee shop but also a showroom and the offices for Foghound Interactive Coffee Company, the company that built the two-storey building.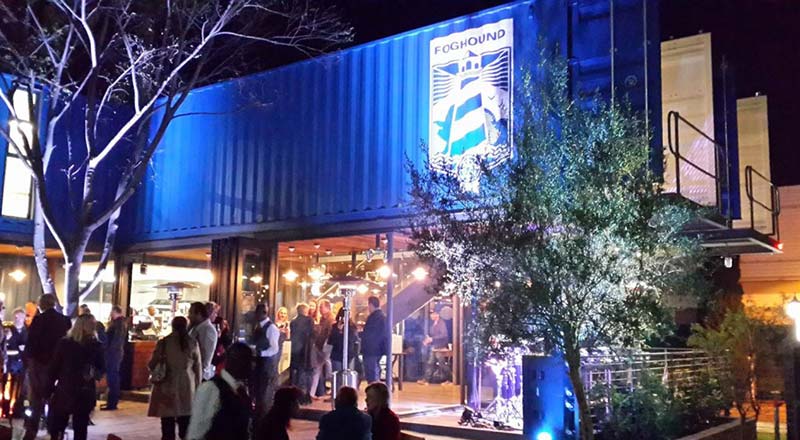 As Foghound's flagship property, it was designed and constructed to be as eco-friendly as possible, fitting with the company's sustainability policies.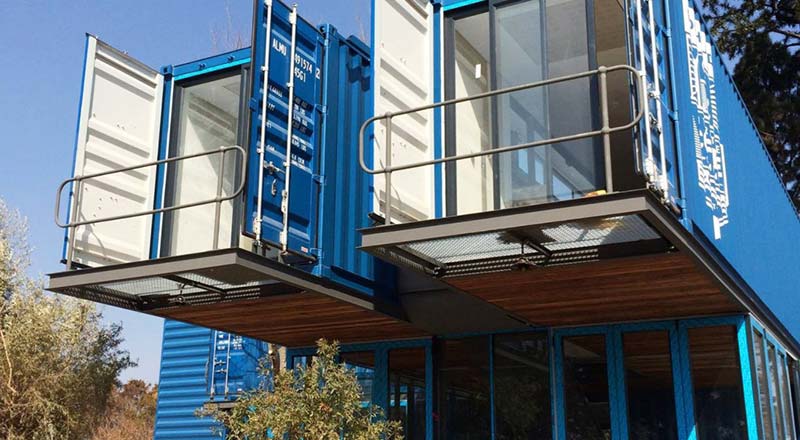 Images: Inhabitat
Starbucks Reclamation Drive-thru, Washington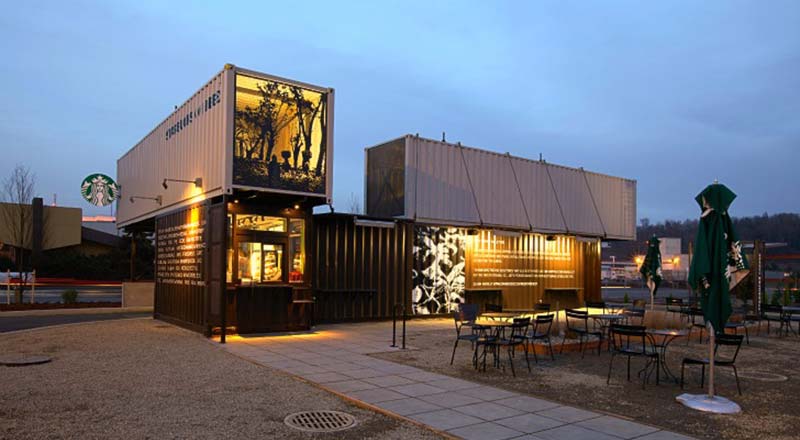 Inspired by the shipping port that their headquarters overlook, Starbucks decided to undertake a project that would raise awareness about sustainable architecture. They used decommissioned shipping containers to build their first Reclamation Drive-thru in Tukwila, Washington.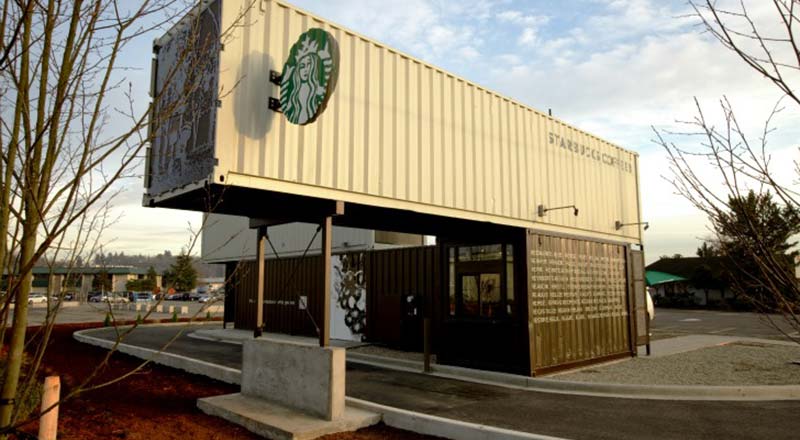 The building was created using four shipping containers and serves as both a drive-thru and walk up container coffee shops. It was designed in such a way that is can be disassembled and relocated if needed.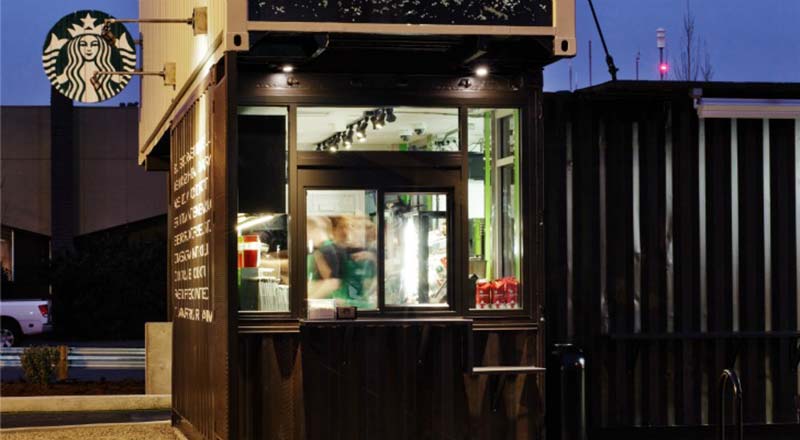 Images: Inhabitat
Freedom Café, Durban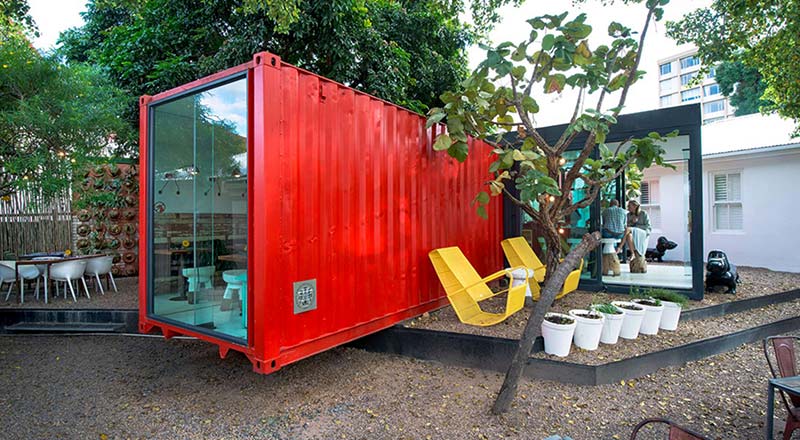 Neil Roake opened Freedom Café in 2010, creating an intimate dining experience using repurposed shipping containers in a garden setting. To incorporate as much natural light as possible, some of the container sides have been fully replaced with glass.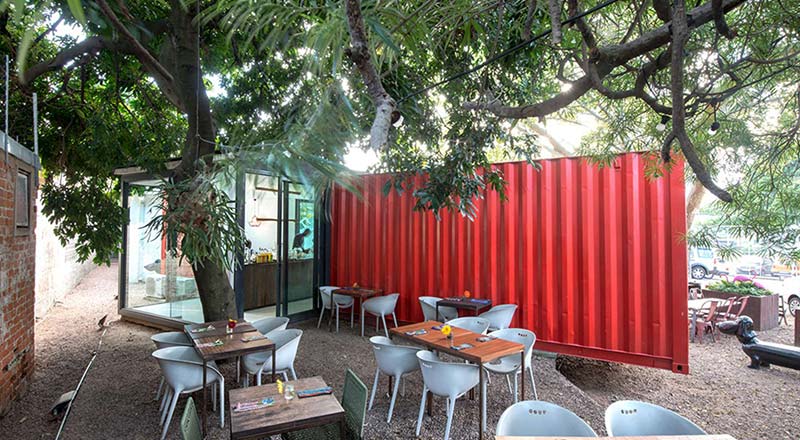 The colourful café forms part of the Concierge Boutique Hotel in Durban North. The hotel was created by refurbishing a row of historical Victorian houses, which makes for a pleasant juxtaposition of old and new between the café and the hotel.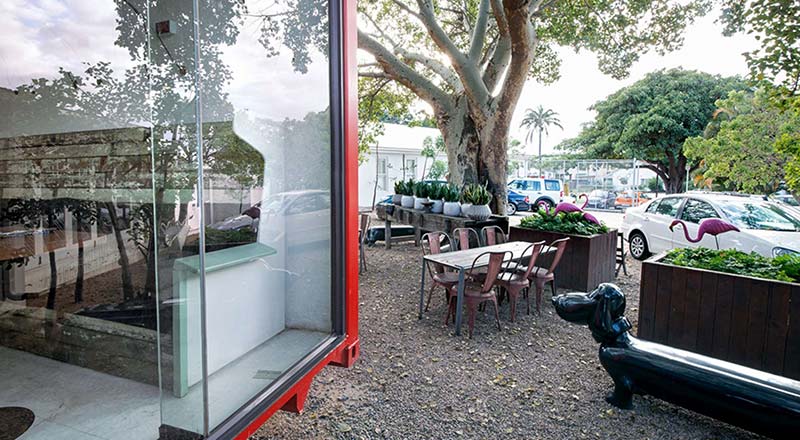 Images: KZNIA
Müvbox, Montreal
The Müvbox is a self-contained and solar-powered mobile unit that first popped up in Montreal in 2009. Made from a repurposed shipping container, this portable pop-up restaurant can be set up in less than 90 seconds.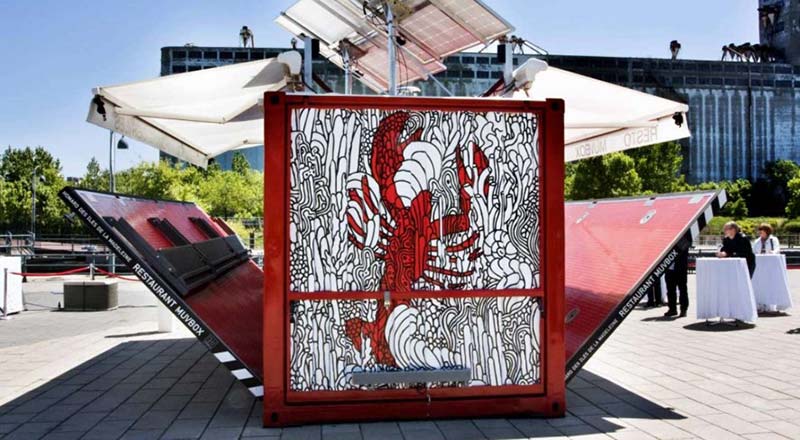 The mobile eatery is designed to be as environmentally friendly as possible by relying on solar power and using recycled materials wherever possible.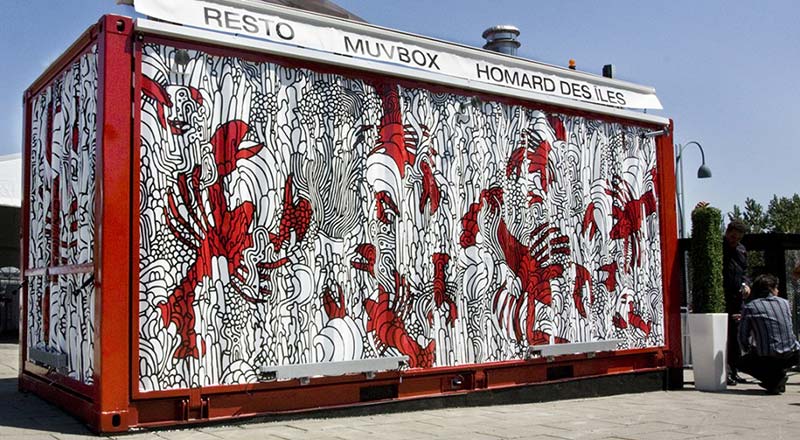 Images: Modulate Containers
Container Conversions with Big Box
At Big Box Containers, we rent and sell high-quality shipping containers. We're also experienced in converting containers for a range of purposes, from housing to event spaces to computer centres.
We work with other experts, from architects to electricians, to ensure that each project meets stakeholders' unique requirements. Contact us for more information or to discuss your needs.
Contact BigBox today for a free quote!