Steel containers are an ideal, portable storage solution.
Click a thumbnail to view.
Big Box steel containers make it possible to add secure storage space to fixed or temporary premises, practically overnight. The containers are highly durable, secure, suitable for outdoor use and easy to move from one location to another.
We also offer high-quality refrigerated containers, as well as professional conversions of steel containers for a wide range of purposes, from prefabricated container offices to event spaces or ablution blocks.
Steel containers – also called dry cargo containers – are ideal for short- or long-term storage of a wide range of goods, from retail stock to bulky tools, equipment, supplies or construction materials.
For example, they're ideal for construction site storage, agricultural storage, retail storage and inventory storage purposes.
All Big Box Containers branches offer 6- and 12-metre dry cargo containers, as well as Hi-Cube containers – which have higher ceilings. Our Gauteng branches also offer smaller, 3-metre containers.
All our steel containers feature double lockable doors, for security and ease of access.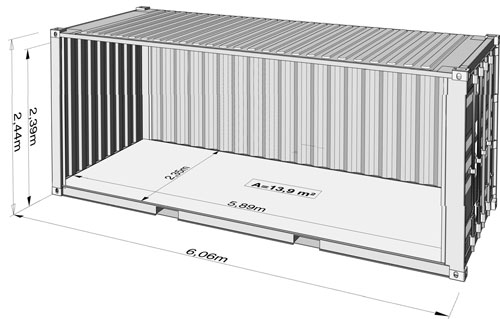 Steel dry cargo containers (new)
| | | | |
| --- | --- | --- | --- |
| Type | Approx. length | Approx. width | Approx. height |
| 3m container | 3.0m | 2.4m | 2.6m |
| 6m container (standard or Hi-Cube) | 6.0m | 2.4m | 2.6 or 2.9m |
| 12m container (standard or Hi-Cube) | 12.0m | 2.4m | 2.6 or 2.9m |
* Dimensions in the table are rounded to one decimal place. All different sizes are available as new containers; availability of secondhand containers varies.
Get in touch
Should you require any more information about our products, please feel free to contact us using our toll-free number on 0861 44 7474.
Related content from our blog