Steel containers are an ideal storage solution.
Click a thumbnail to view.
Big Box steel containers make it possible to add secure space to fixed or temporary premises, practically overnight. They're the ideal solution for storing goods or equipment, in almost any location, for the short or long term.
We also customise our steel containers for a huge range of purposes, including site office space.
Using a steel container makes it unnecessary to invest capital and time in constructing a facility from scratch or finding a suitable, off-site facility to hire. Once you rent or buy a Big Box container, we'll deliver it to your premises – in perfect condition and customised according to your needs – and you can start using it straight away.
Because they're lockable and built of steel, Big Box containers are highly secure. This means you can use them in outdoor locations with peace of mind.
Our steel containers are ideal for short- or long-term storage of a wide range of goods, from retail stock to bulky equipment, supplies or construction materials.
In addition, we offer professional conversions of steel containers to meet unique needs.
Our professional team can customise a container for almost any use you can imagine, adding features such as windows and additional doors, shelving, carpets, electricity points and light fixtures, security bars, custom paintwork and more.
For example, use a converted Big Box container as a site office or computer centre, a library, a retail space, a bar or stall at a corporate event or festival or an ablution facility.
Big Box steel containers have the following advantages:
they're tough, weather-resistant and vandal-proof
they provide cost-effective, scalable storage space
they can be customised for a wide range of uses, including office space
if your business relocates, a steel container can simply move with you.
Big Box steel containers are constructed from tough, marine-grade steel, providing outstanding strength and durability. They're available in lengths of either 6 or 12 metres.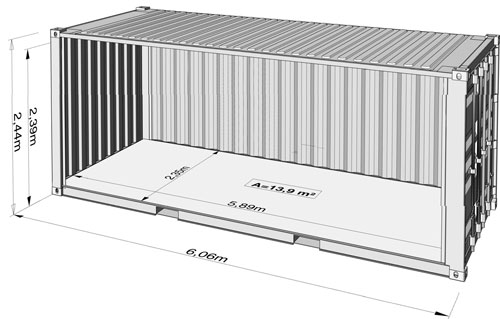 Get in touch
Should you require any more information about our products, please feel free to contact us using our toll free number on 0861 44 7474.