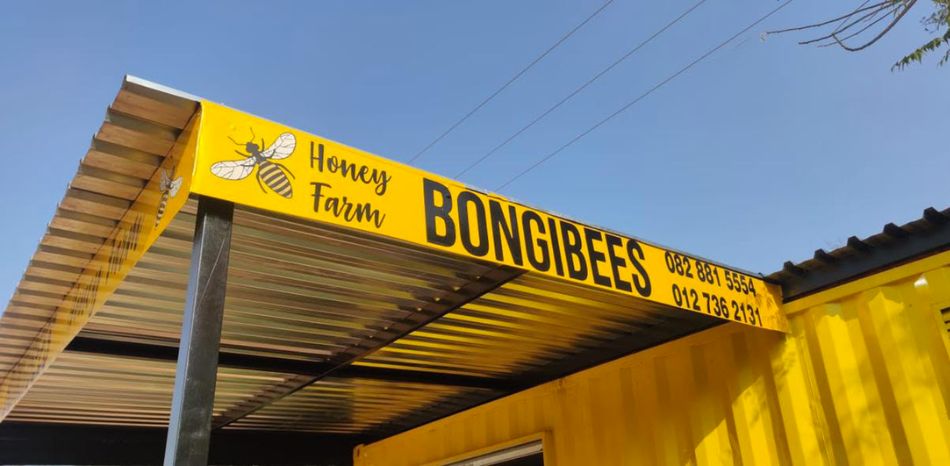 "In every woman, there is a queen bee." Big Box Containers has a bee-utiful story about a queen bee using her skills and available resources to turn a challenging situation around by making liquid gold.
After being diagnosed with an auto-immune disease, Lulu Letlape started a honey farm business in Rayton, Tshwane named Bongi Bees, as she needed a healthy environment to work in and to sustain her living. Bongi is derived from the Zulu word 'Bonga', meaning 'be thankful'. It is a way of showing gratitude to the bees for providing her with an opportunity, a healthy source of food and ensuring food security for the world.
Lulu's mission is to provide her customers with excellent products and services while educating them on the environmental importance of bees.
Her range of services includes the manufacturing and packaging of honey, selling 100% raw honey, beekeeping, bee removals, training staff and pollination to name a few.
Lulu also plans to increase the number of beehives they have in order to produce honey on a larger scale. The aim is to grow their market share and reach in bee pollination, thereby assisting farmers in the pollination of crops. Plans for commercial beekeeping, pollination and exports are also in the pipeline.
"My team is very passionate about bees and is very committed to the business and the environment to ensure our bees thrive."
– LULU LETLAPE.
Bongi Bees provide job opportunities for people from rural areas, inspiring them to have the same passion and work ethos they have. It is clear that her team is extremely passionate about bees and educating people on their purpose and importance.
Big Box Containers converted a 6m container for Lulu – a facility from where she can conduct her business and live out her passion. Queen bees like Lulu give us hope that no matter what life throws at you, your circumstances are changed by your attitude, hard work and determination.
Bee Thankful, Bee Positive, but most of all, Bee Kind.
At Big Box Containers, we're happy to customise containers to meet clients' specific needs. We're experts at preparing containers for a range of purposes, from offices to event spaces, kitchens and ablution blocks. Visit our website at www.bigbox.co.za or call 0861 44 74 74.