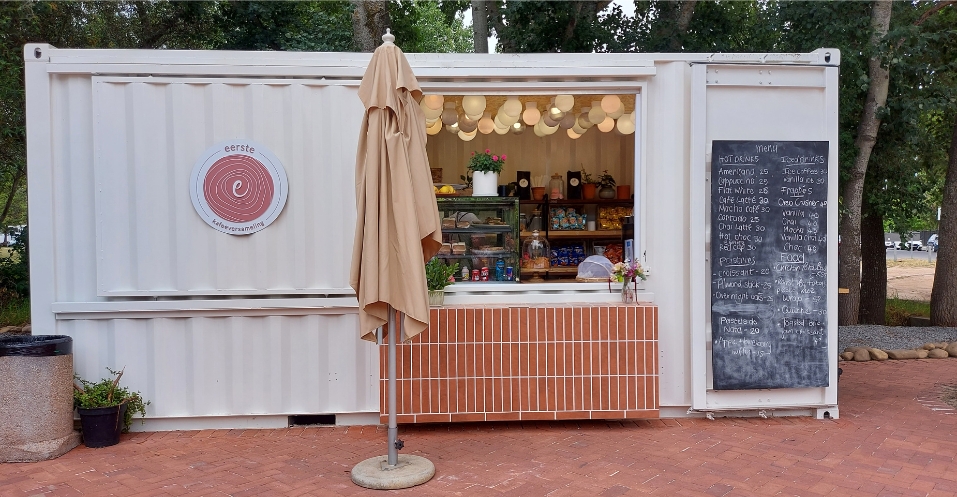 Behind every successful woman is a substantial amount of coffee – nothing rings truer in this story than this saying…In the heart of Stellenbosch, two determined women had a dream of opening their coffee shop. With the help of Big Box Containers, their dream became a reality.
Good Ideas start with coffee.
Over the past two years, Simone Gerber and Lerine van Wyk have been exploring various avenues to make their coffee shop dream come to life. Overcoming the lack of an ideal location, the required facilities and municipal restrictions seemed impossible but strong women never give up. With another cup of coffee, thoughtful re-evaluation and a stroke of good fortune, they returned stronger and ensured ultimate success.
The perfect opportunity swiftly presented itself in the form of an ordinary parking lot next to the serene Eerste River and the Markötter Sports Complex, utilised by Paul Roos Gymnasium, Rhenish Girls' High School and Bloemhof Girls' High School parents for pick-ups and drop-offs. The school was delighted to allow Simone and Lerine to revamp their parking lot into something beautiful, exciting and new. The ladies got in touch with the school's preferred container partner – you guessed it – Big Box Containers and from there, "Eerste Kafee" came into glorious existence.

A coffee-worthy Big Box Container conversion.
Big Box Containers provided the entrepreneurs with a 6m steel converted container. Big Box Director Willie Ward assisted Lerine and Simone every step of the way. Architects were brought on board, and building plans were submitted to the council. The conversion had to include space for a coffee machine, a display area, a worktop counter space, a refrigeration space, a small kitchen and a point of service. Every single centimetre of the container had to be accounted for and utilised for optimal use. Windows, sliding doors, beautiful light fixtures and electrical outlets were also added to the conversion. The exterior of the container was painted from blue to an off-white colour allowing a complete transformation while giving it an inviting and sophisticated look.
In addition to the converted container, the ladies enhanced the aesthetics of the surrounding area with swirls of rock formations, all retrieved from the flowing Eerste River next to Eerste Kafee.
"They are like trees planted along the riverbank, bearing fruit each season. Their leaves never wither, and they prosper in all they do"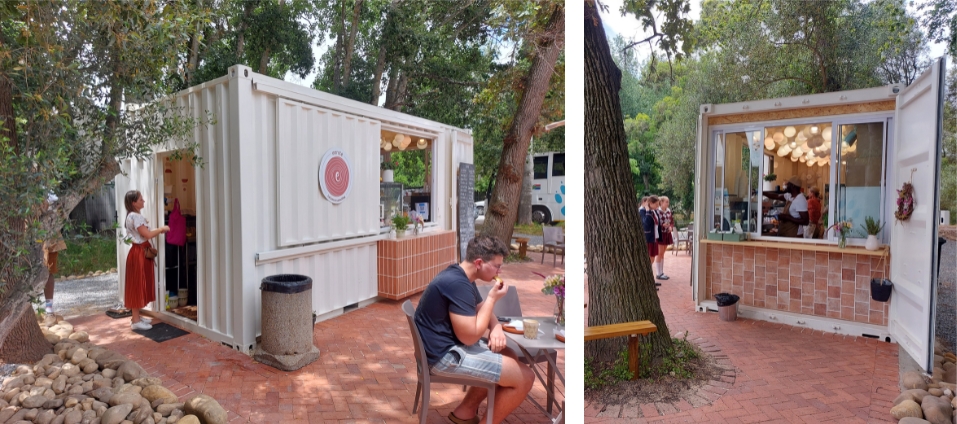 But first…Coffee!
Eerste Kafee has been a blessing to many Stellenbosch residents since its inception. Their clientele includes Paul Roos, Rhenish and Bloemhof's parents during school commutes, joggers, cyclists and dog walkers who stroll along the Eerste River to name a few. Regular customers are undoubtedly returning because of the unwavering commitment and love these ladies, together with their energetic barista, Evans Kangonga show with their friendly service and well-rounded, full-bodied cups of coffee. Their logo also resembles the year rings of a tree's trunk, proof of their endurance during their years of ease and years of difficulty in reaching their dream. Lerine and Simone also explain that Eerste Kaffee is the first of a series of coffee container shops they plan to open.
Big Box Containers can't be more excited for their journey ahead. If you can dream it, we can do it!
Big Box Containers is one of the biggest privately owned container rental, sales and conversion companies in Africa. It has branches in Cape Town, Johannesburg and Pretoria. We are happy to customise containers to meet clients' specific needs. We're experts at preparing containers for a range of purposes, from offices to event spaces, kitchens and ablution blocks. Visit our website at www.bigbox.co.za or call 0861 44 74 74.