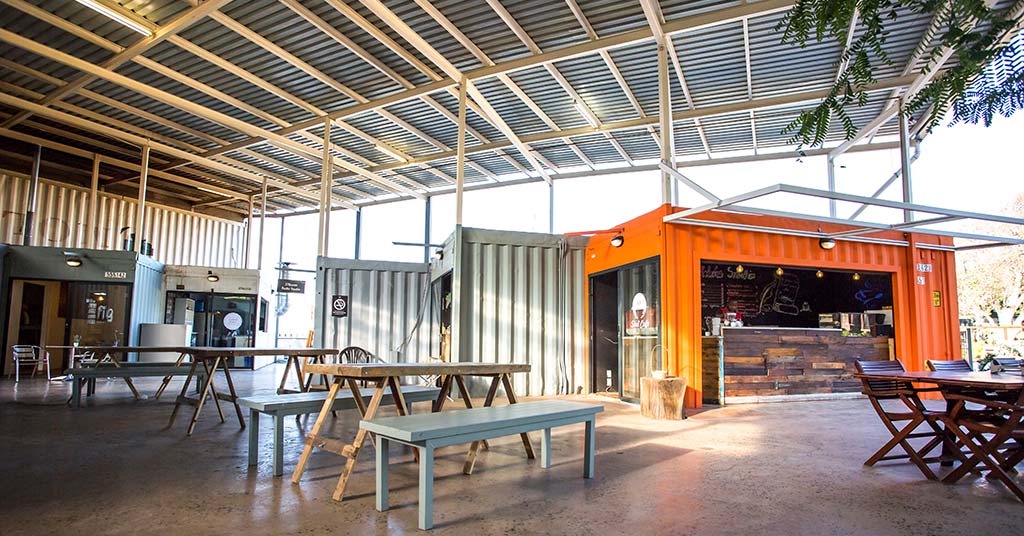 South Africa's informal economy contributes income for millions of South Africans – and in many cases, repurposed shipping containers provide inexpensive premises for their businesses.
The value of SA's informal economy
According to Spotong magazine, South Africa's informal economy includes:
upwards of 100 000 spaza shops turning over about R46 billion per year, with typical turnover per outlet ranging from R30 000 to R200 000 a month
roughly 50 000 informal food takeaway shops and tuck shops, selling everything from kota burgers to vetkoek and shisanyama; some of the bigger food trucks can turn over R50 000 a day, seven days a week
over 150 000 hair salons, with total turnover in the millions.
A significant percentage of these businesses are run from shipping containers.
For example, a study of certain townships in the Cape found that 6.5% of micro-enterprises are hair salons. Of these, 70% are container salons, run from repurposed shipping containers.
Why shipping containers are an ideal solution for micro-businesses
Containers have various advantages for micro-enterprises, in industries ranging from general retail and food to haircare.
Shipping container spaza shops
According to a Nielsen study, spaza shop trade is continuing to grow – this despite big retailers moving into townships and peri-urban areas.
For example, the study found that "modern trade" shoppers who also use spaza shops grew from 45% in 2015 to 53% in 2016.
In fact, spaza shops and other so-called traditional trade outlets contribute about 22% of South Africa's annual retail sales (totalling an estimated R316.5 billion in the 2016/2017 financial year).
Advantages of repurposed shipping containers for spaza shops, independent grocery retailers and corner convenience stores include:
Security: Goods can be securely locked in weather-resistant, tamper-proof containers. Like traditional shops, containers can be fitted with alarm systems, doors with security gates or CCTV cameras.
Location: Container spaza shops can be placed just about anywhere, subject to city bylaws and required permits. Shipping containers are designed to be portable and are weather- and vandal-proof.
Space: Large shipping containers can be divided and customised for sub-letting, so spaza shop owners can generate an added income from complementary businesses.
Shipping container tuck shops
Like spaza shops, informal tuck shops and food trucks play an important role in the country's economy.
As well as providing business owners with income, they support employees. They also provide workers, school children and other passers-by with easy access to food and drink.
Some advantages of repurposed shipping containers for tuck shops and takeways:
Cost: Shipping containers are inexpensive, and can easily be re-sold.
Size: Containers are the ideal size for tuck shops and food trucks, with enough room for food preparation equipment and a small team of employees.
Ease of customisation: Containers can easily be customised to include serving hatches or windows, as well as kitchen equipment, shelving, electrical outlets and proper plumbing.
Branding: Containers can be branded, painted, and fitted with any equipment that's needed. This helps create a professional image, which is good for marketing.
Shipping container salons
In South Africa, haircare is big business, and many township salons are run from repurposed containers.
Some of the potential benefits of shipping containers for salons are as follows:
Customisation: Container salons and barber shops can be completely kitted out with basins, mirrors, shelving, built-in seating and more.
Low entry costs: A container requires a once-off investment that entrepreneurs can often cover with the help of a loan. Salon equipment can be costly, but without the overhead expense of monthly rent, shipping containers contribute to long-term savings.
Ease of expansion: As foot traffic increases and the business grows, it's easy to add on space by simply upgrading to a larger container, or adding containers on to existing businesses.
At Big Box Containers, we rent and sell high-quality repurposed shipping containers for a range of purposes, from container offices and storage units to spaza shops, salons, event spaces, computer centres and community libraries. Contact us online or call us on 0861 447 474 for a quotation or to find out more.
Contact BigBox today for a free quote!