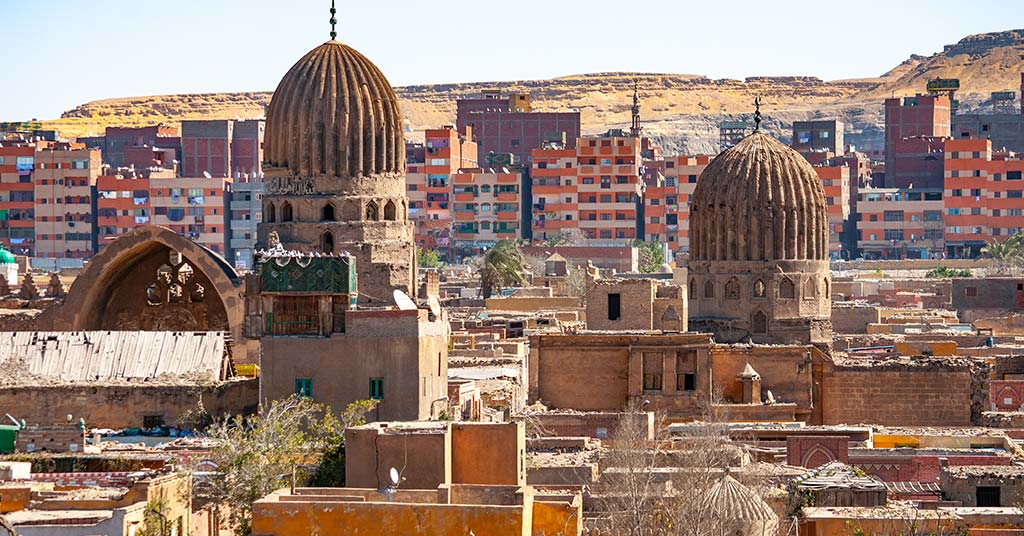 As many as one million people are estimated to live in makeshift homes among the graves of Egypt's famed City of the Dead.
Cairo's necropolis, a 6.5 km-long series of cemeteries just outside the city walls, is home to low-income families, students and refugees who live alongside – and sometimes inside – the ancient tombs.
Housing shortage drives people to City of the Dead
The City of the Dead has been home to some families for generations and continues to grow due to a housing shortage in Cairo caused by urbanisation.
Now, shipping containers could provide a solution to the housing crisis thanks to an award-winning project proposed by three architects from the United Arab Emirates.
Containers offer permanent shelter
Mouaz Abouzaid, Bassel Omara and Ahmed Hammad designed a shipping container housing project, dubbed Sheltainer, which proposes to repurpose shipping containers to create individual housing units.
The design focuses on Egyptian life with a neighbourhood of eight Sheltainer homes clustered around a green courtyard with a tower at the centre.
Green lungs for Cairo
At the same time as providing permanent residences and communities, the project aims to give Cairo a new "lung" to allow it to breathe, plus a new road network to ease the traffic congestion.
The long-term plan is for the towers at the heart of the clusters to house wind turbines, solar panels and water tanks for the surrounding homes.
They would also double as pigeon lofts – breeding pigeons is a popular occupation in the city. "We wanted to maintain the culture of the people living in Cairo," said the architects.
Containers are flexible
Sheltainer offers a flexible solution that incorporates a redesigned market, existing functions, activities and needs, and at the same time creates new open spaces, new activities, new homes and "new hope", say the architects.
The project incorporates standard 6-metre containers, as well as smaller 3-metre ones, and larger 12-metre containers for its structures.
Containers are readily available
The architects decided to use shipping containers as a construction material because of their durability and robust, ready-made structure – plus their availability.
Egypt has numerous ports – the nearest one is just an hour from the City of the Dead – and many unused containers are left out to rust, say the architects.
Residents help build their homes
The project aims to enlist residents as part of the design and build process.
"People have been building light structures from wooden, fabric, plastic or metal scraps, which is a hazard for life and safety," said the architects.
"With our knowledge and the residents' manpower, we can convert the shipping containers to homes.
"They have been living under corrugated sheets, which is beyond humanity. We will teach them how to build their own homes but using containers," the architects said, "and this will upgrade the social connectivity between them and their homes."
Sheltainer project wins international acclaim
If the project goes ahead, burials, which continue at the cemeteries, would be halted for two years and existing graves preserved as historical sites.
The project won a WAFX prize for the Ethics and Value category at the World Architecture Festival.
The prizes are awarded to future projects that identify key ecological and societal challenges that architects are actively seeking to address. Imagine what other wonderful architectural projects could be pursued using shipping containers!
At Big Box Containers we rent, sell and convert high-quality shipping containers for a range of purposes, from shops to event spaces, computer centres and ablution facilities. We're also a leading supplier of reefers – refrigerated containers ideal for temperature-sensitive items.
Contact us online or call us on 0861 447 474 for a quotation or to find out more, and we'll be happy to help.
Contact BigBox today for a free quote!