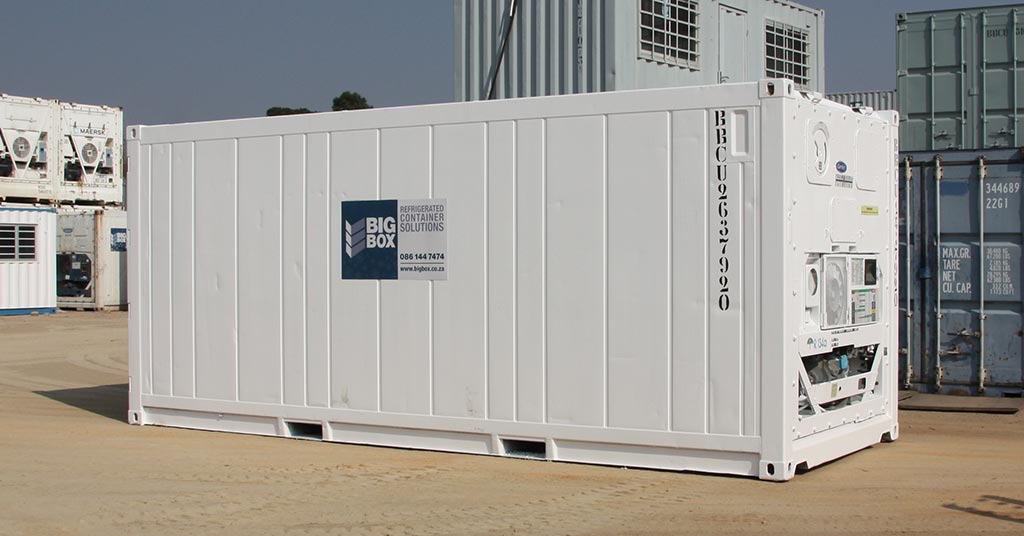 Reefers, or refrigerated shipping containers, are becoming increasingly important components of the South African food supply chain.
Reefers – or repurposed marine refrigerated shipping containers – are used by farmers to store and transport their produce because they're portable, affordable and practical.
They're also used by a range of industries that require portable cold storage, on a temporary, seasonal or longer-term basis. Here we consider some of the factors driving demand for reefers in South Africa.
Increased global demand for South African fruit
South Africa produces some of the highest quality fruit on the planet, and there is growing international demand for our produce, along with the reefers required to preserve and ship it.
At present, fruit accounts for 90% of total reefer exports, with citrus fruits, apples, pears and grapes making up the bulk of our exports. The majority of this is shipped out of the port of Durban, with primary import markets in the European Union (35%), United Kingdom (15%) and Russia (7%).
While reefer demand for some fruit crops has been affected by the drought over recent years, citrus fruit farmers are experiencing a surge in productivity which is forecast to continue. In fact in 2018 the number of cartons of citrus fruit transported in South Africa increased around 8% year on year, despite several challenges faced by growers. This was partially driven by a doubling of citrus fruit exports to China.
With the drought receding in many areas, other crops are expected to follow suit in coming years. There are, however, serious concerns about the ability of South African ports to handle the volumes of fruit-packed reefers heading their direction.
It is forecast that Durban harbour will experience a 25% increase in reefer container traffic over the next couple of years. This in turn will require on-going upgrades to the harbour's capacity to accommodate reefer storage.
Demand for flexible, accessible cold storage on farms
According to CNBC Africa, as much as 40% of produce harvested in Africa is ruined before it can be sold. The situation in South Africa is not quite as extreme, due to the relatively advanced cold storage infrastructure already available in the country.
However, South African farmers do experience significant losses in potential revenue every year. Approximately 8% of export shipments are rejected due to improper temperature controls during packing. Because fruit should be put into cold storage as soon after storage as possible, it is critical for farmers to have cold storage in close proximity to their farms during harvest, and for these storage facilities to meet the standards required for export.
Reefers are an ideal solution for fruit farmers. Their portability means they can be located and packed on-site during harvesting.
This not only decreases the amount of time required to get produce into cold storage, but also reduces the need for moving produce between cold storage facilities as it moves down the supply-chain, reducing the risk of temperature spikes. In addition, the number of reefers on-site cold storage can be easily scaled up or down to reflect crop yields.
Smaller farmers who supply local markets are realizing they can benefit extensively from maintaining reefers on their farms. Reefers can prevent a variety of pests from damaging crops after harvest and control the release of ethylene gas to prevent ripening and spoilage, improving the quality and value of crops that reach the market.
Reefers may also allow farmers to store crop surpluses when the market is saturated during the harvesting season, which can boost crop value.
General cold storage applications
Over the last decade there has been a big increase in the number of outdoor events and festivals held around South Africa, ranging from endurance sports events in remote wilderness areas to trance parties or music festivals held on farms or smallholdings.
The locations used for these events are typically lacking in infrastructure, and because events are often scheduled during the summer, cold storage can be a real problem. Reefers have proven to be an ideal solution to this issue.
Because they are transportable and compact, organisers are able to hire temporary cold storage facilities and have them delivered to the event. This assists them in attracting food and beverage vendors, and improving the service that these deliver to event patrons.
The cost-effectiveness and practicality of reefers has also been recognized by the hospitality industry and shops that sell perishable produce. Reefers allow them to scale their cold storage capacity up and down as required by seasonal business flows, without having to invest in developing additional facilities at their business premises.
Reefers for rent and sale at Big Box Containers
Big Box Containers is a leading supplier of reefers, for rent and sale. Our refrigerated containers can store items at temperatures ranging from -20° C to 10° C. They're portable, secure and efficient, and a single unit can be partitioned to store both chilled and frozen goods.
Contact us online or call us on 0861 447 474 for a quotation or to find out more, and we'll be happy to help.
Contact BigBox today for a free quote!