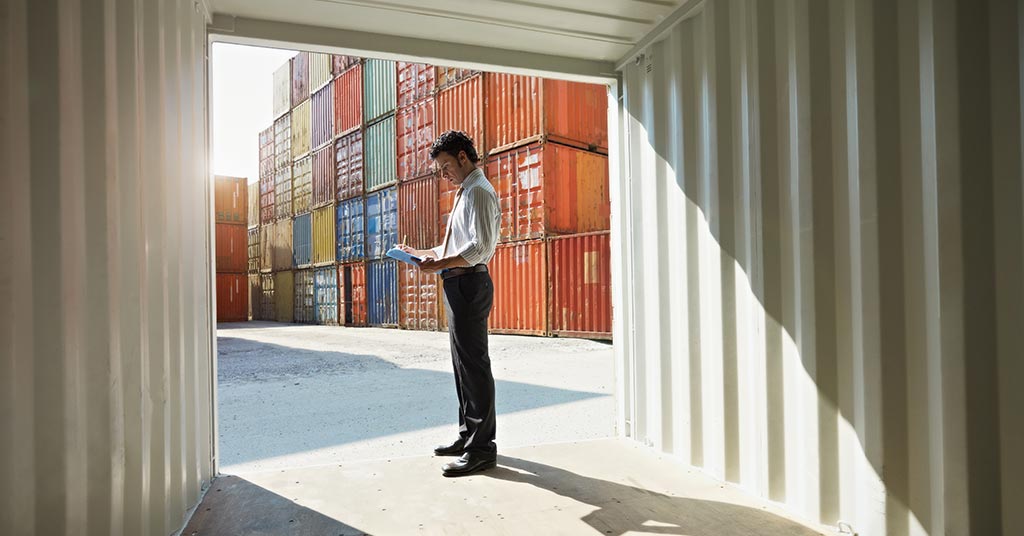 Choosing a shipping container involves determining the container size, type and grade that will best suit your purposes. It can also involve deciding what conversion work is needed to modify the container.
Shipping container sizes
Containers come in all kinds of sizes and configurations. However, ISO standards define three main shipping container sizes – 20-foot and 40-foot containers, and Hi-Cube containers.
10-foot containers are also available, although these are less common.
6-metre (20 foot) containers
The most popular container size is the 6-metre (20 foot) container.
This size is ideal for many domestic and general storage purposes.
Once suitably customised, a 6-meter container also large enough to serve as an office, an event space, an ablution block, a small retail space or even a mobile restaurant. More than one 6-metre container may also be combined.
This container's exact dimensions are as follows:
length: 20 ft (6.06 m)
width: 8 ft (2.43 m)
height: 8.5 ft (2.59 m)
The ceiling (with or without insulation), flooring and any cladding may alter the container's interior dimensions.
6-metre containers are cheaper and easier to transport than larger containers.
12-metre (40 foot) containers
If the floor space of a 6-metre container is too limited, you might consider a 12-metre container.
This container's exact dimensions are as follows:
length: 40 ft (12.2 m)
width: 8 ft (2.43 m)
height: 8.5 ft (2.59 m)
12-meter containers are spacious enough to allow internal division of floor space. This makes them suitable for larger container offices, computer centres, libraries, exhibition spaces, classrooms and more.
A 12-metre container costs more to transport than a single 6-metre container. Nonetheless, it's still cheaper to transport than multiple smaller containers.
Hi-Cube containers
Hi-Cube containers are available in the same standard lengths and width, but are 9.5 feet (2.89 metres) high.
Their extra height is useful, especially where the containers are modified to serve as offices or housing. Higher ceilings provide more space for insulation and wiring, without compromising on living space.
Controversially, South Africa's Department of Transport has ruled that once loaded on a standard transport trailer, a Hi-Cube container exceeds the maximum permissible height for transporting on South African roads. This means an abnormal load permit may be required.
Different container types
The main types of shipping containers are:
dry storage containers (also sometimes called cargo containers)
refrigerated containers (also called reefers).
Dry storage containers are made of marine-grade steel.
Refrigerated containers, also called reefers, are lined with stainless steel. At Big Box Containers, they also have aluminium T-bar flooring. This helps ensure easy cleaning and even distribution of cold air.
Also, containers may be described as different types based on where their doors are located and whether the walls and/or ceiling can be collapsed. For example,
a tunnel container has doors at either end
a flat rack container has collapsible sides for easy loading
an open top container has a removable top
a double-door container has double doors that span the full container length.
Shipping container certifications
When choosing a shipping container, it's worth checking whether it's certified as cargo worthy (CW) and wind and water tight (WWT).
This helps rule out containers with structural damage.
Shipping container grades
Secondhand shipping containers are typically assigned to one of three grades:
A grade – in new condition
B grade – less than five years old
C grade – older than five years, and generally sold "as is"
A-grade containers aren't necessarily brand new. Many have completed at least one trip. Still, they have an average expected life span of at least 30 years.
It's worth considering buying a new container in situations where aesthetics and a long lifespan are important.
For other purposes, a B- or even C-grade container may be perfectly suitable (and more affordable).
"As is" containers may have superficial rust and dents, without compromising their structural integrity. Sometimes they need little more than paint jobs to look good, too.
Even a C-grade container that's no longer wind and water tight (WWT) may provide suitable storage space, for example for farm equipment, building materials or car parts.
Shipping container conversion work
Along with choosing the right shipping container for a given purpose, you may need to decide what modifications are needed.
At Big Box Containers, we don't handle complex work like building container homes.
However, we do offer basic container conversion work such as:
cutting and framing doors and windows
painting the interior and/or exterior
adding paneling or flooring
installing insulation and/or air conditioning
adding lighting and electrical points
installing plumbing and ablution fixtures.
If you're in the process of choosing a shipping container to meet your needs, try our online quotation tool. You can choose a container size and customisation options, and the tool will provide an instant price estimate.
Contact BigBox today for a free quote!