For Big Box Containers, some container conversion projects are more satisfying than others. As is so often the case in life, it's hard to beat pizza!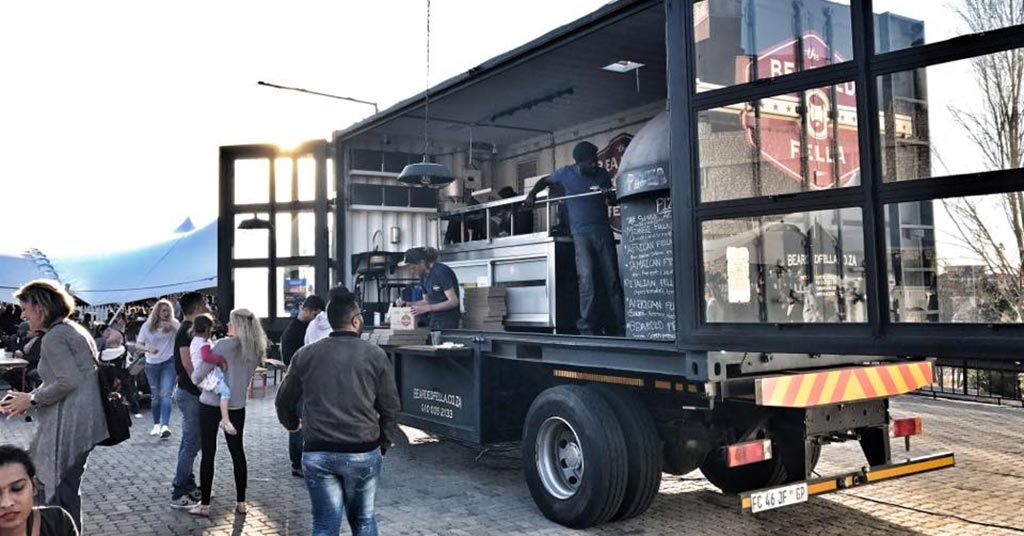 Image courtesy of @beardedfellaza
Bearded Fellas: Bryanston's gourmet pizza truck
Popular Bryanston-based pizza truck, Bearded Fellas, is housed in a converted, 6-metre shipping container.
With the help of our skilled conversion team at Big Box Containers, Bearded Fellas succeeded in repurposing the container into a classy food truck. It's complete with a wood-fired pizza oven, space for three chefs and a stylish glass and wood exterior.
The container has been home to the pizzeria since it launched a few years back.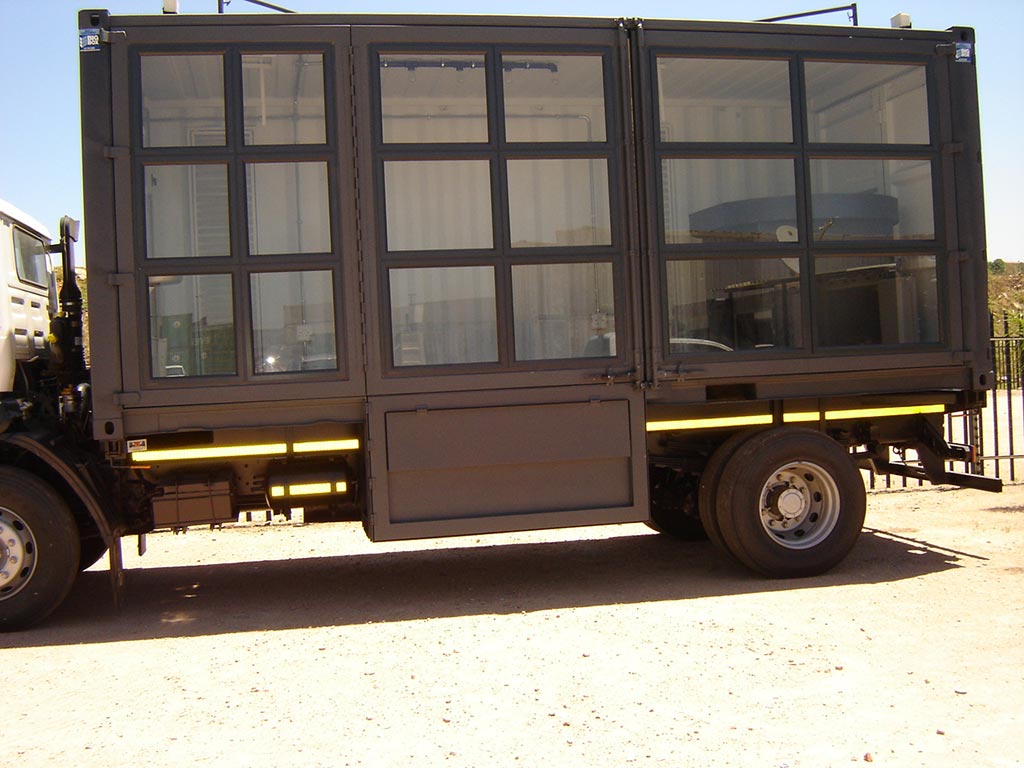 Heavy-duty folding glass and wood doors were installed, replacing the entire length of the shipping container to create an attractive restaurant exterior and a spacious, open kitchen.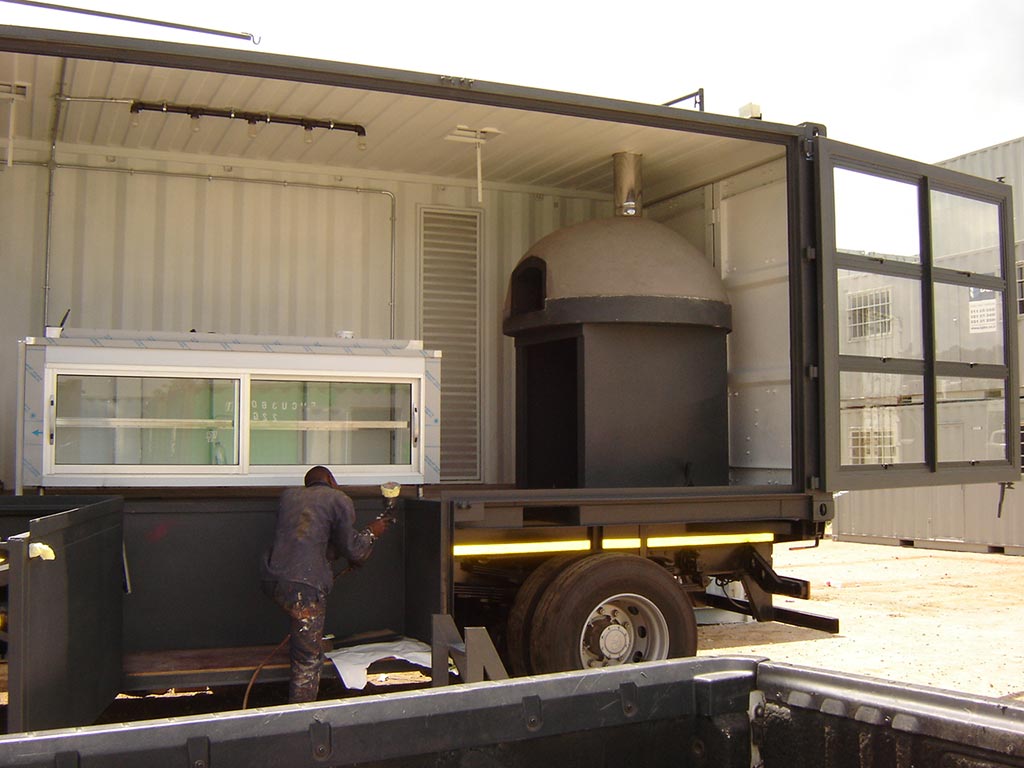 A large, wood-burning pizza oven, together with outlet chimney, was built into the work space.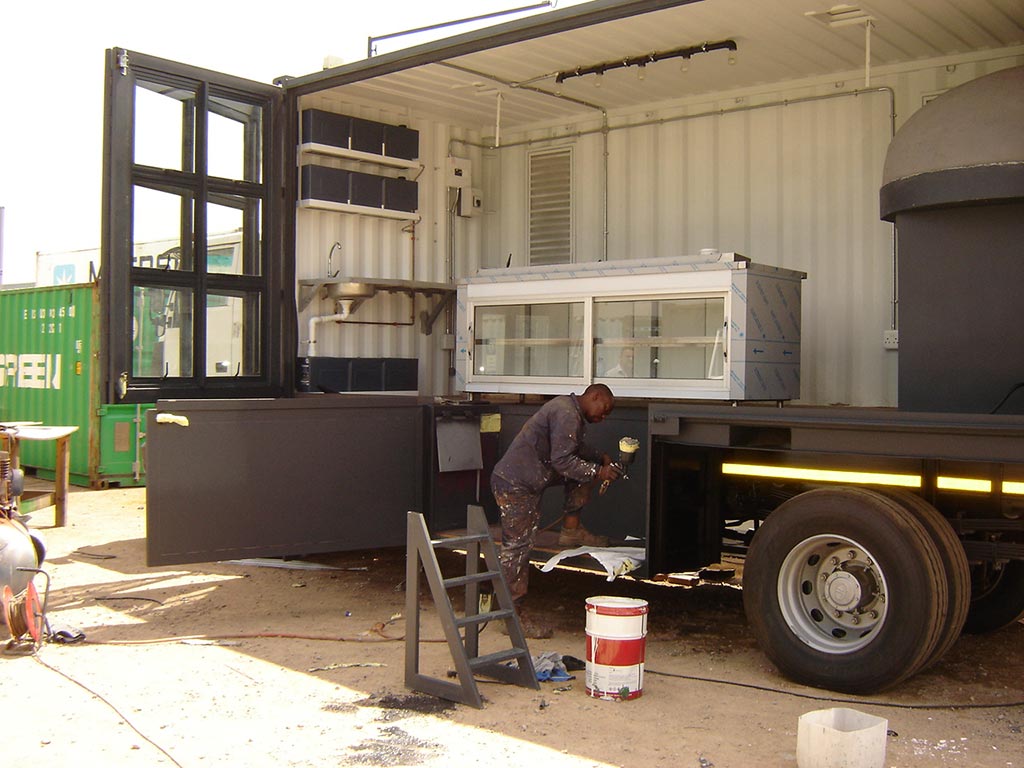 A neat serving hatch is built in below the unit to allow for convenient, floor-level service, within arm's length of the pizza oven.
A stainless steel, glass-fronted display and warmer unit ensures pizzas are always served piping hot.
The interior of the unit is fitted with ventilation hatches, electrical power points and basic plumbing.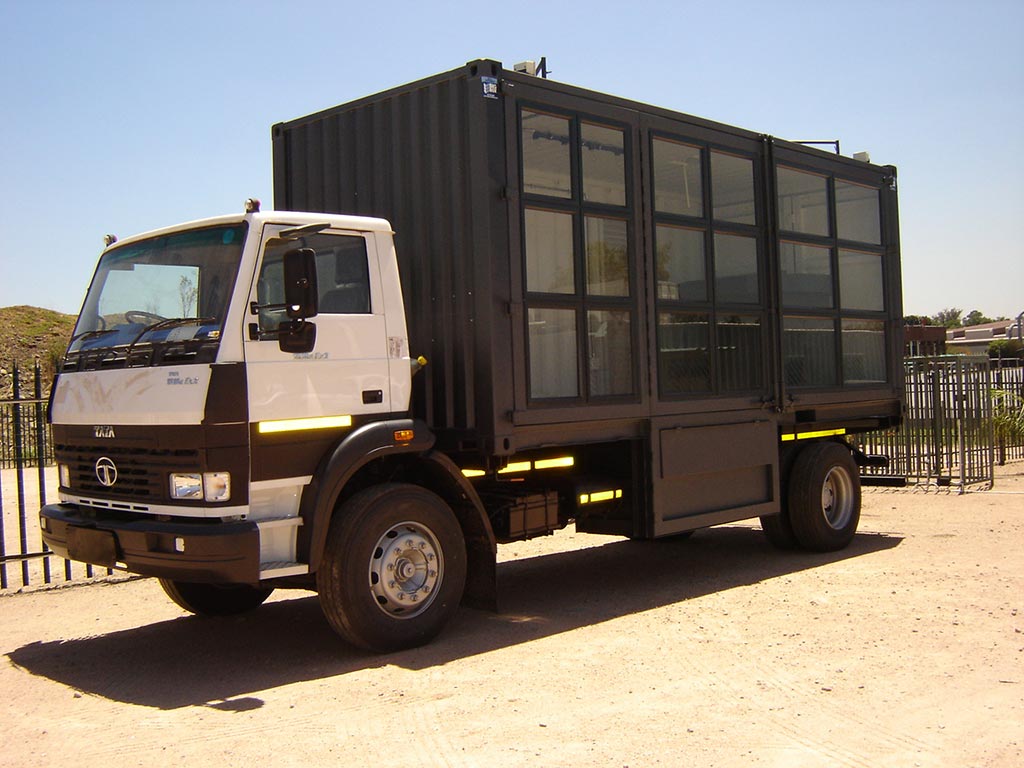 When they're not catering for their regular clientele in Bryanston, the Bearded Fellas are out and about at festivals, outdoor expos and markets, serving delicious gourmet pizza on the spot.
Container pizza kitchens around the world
Mobile pizza kitchens built from recycled shipping containers are popular beyond Bryanston, too.
From Kentucky and San Francisco in the United States to Sydney in Australia, portable, container-based pizzerias can be found serving up hot pizza along city streets and in residential neighbourhoods.
Del Popolo Neapolitan Pizzeria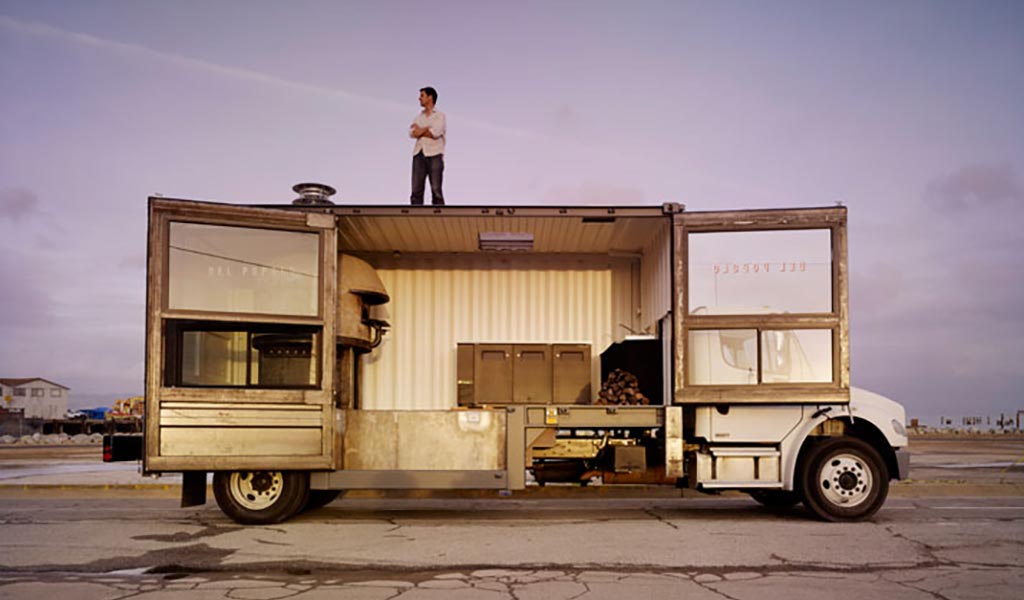 With an exhibition kitchen and a wood-burning oven capable of producing 72 pizzas at a time, Del Popolo "brings pizza to the people" of San Francisco.
Happy as Larry Pizza Truck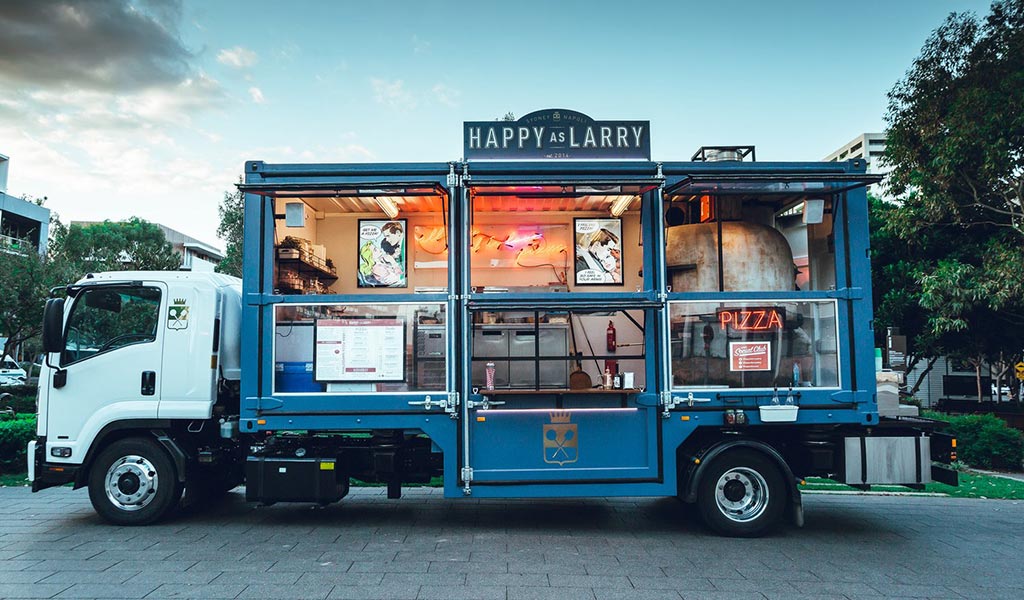 Happy as Larry is an Italian-style container food truck in Sydney. It produces Napoli-style pizzas on the go. Six large windows built into the side of the container reveal a well-equipped commercial kitchen and wood-fired oven.
Rolling Oven Pizzeria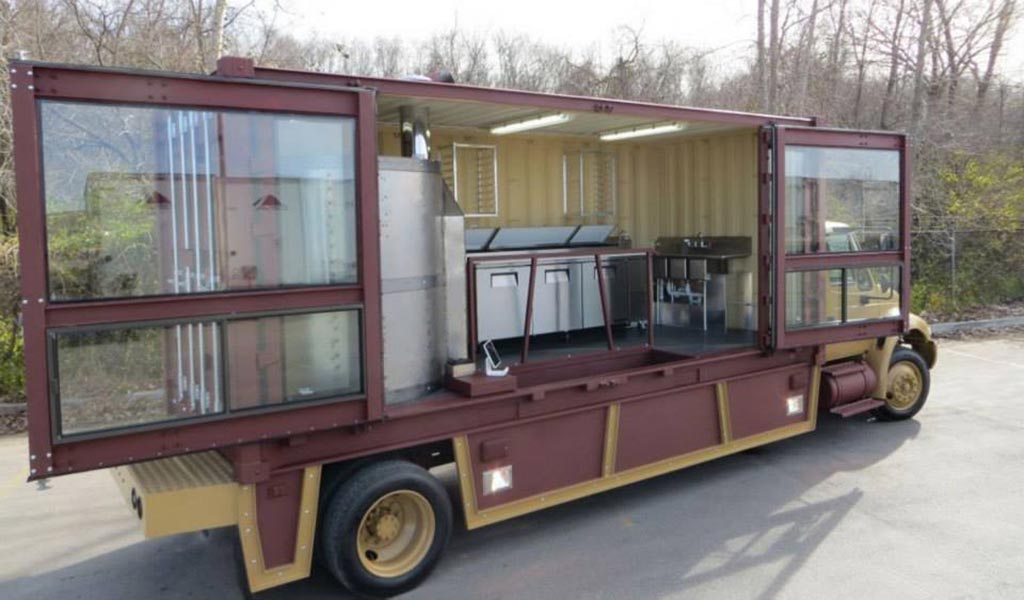 Based in Lexington in Kentucky, the Rolling Oven Mobile Pizzeria displays its interior through a wall of folding glass doors. Their wood-fired oven produces around 600 pizzas a week, at different locations around the city.
What we do at Big Box Containers
At Big Box Containers, we rent, sell and convert high-quality shipping containers for a range of purposes, from shops to event spaces, computer centres and ablution facilities. We're also a leading supplier of reefers – refrigerated containers, for temperature-sensitive items.
Contact us online or call us on 0861 447 474 for a quotation or to find out more, and we'll be happy to help.
Contact BigBox today for a free quote!