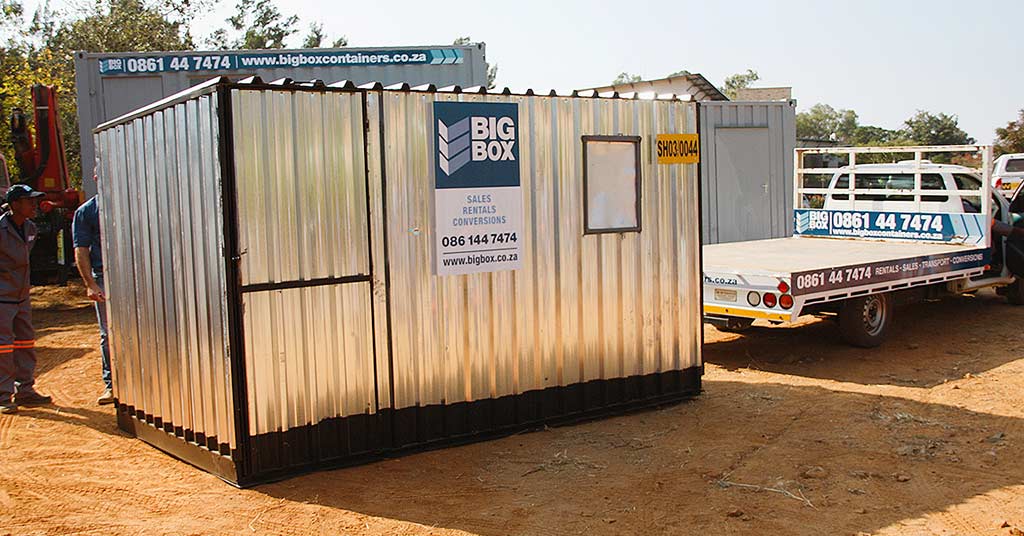 Construction sites are a hive of activity. Workers, equipment and machines must all be effectively managed to ensure projects are completed on time and within budget.
Whether a project lasts for days or months, it can save time, money and mistakes if suitable storage facilities and amenities are available, easy to transport and quick to erect onsite.
Big Box multi-use construction site sheds
At Big Box Containers, we're known for our rental, sales and custom conversions of new and used shipping containers. In Gauteng, we're now also offering pre-fabricated construction site sheds for hire.
Water- and weather-proof
The angular fluted profile of the plating on our sheds acts as built-in guttering that quickly drains rain water away from the shed. This protects structural integrity, helping ensure that whatever you store stays dry and safe.
Extra strength and resilience
Big Box construction site sheds are built using 0.8 mm inverted box rib plating (IRB) plating, the top of the range profile thickness. IRB is strong, durable steel plating that's virtually impenetrable. Its composition and interlocking structure make it an ideal roofing and cladding material.
The sheeting features galvanised Chromodek coating, to provide extra strength and resilience.
Security of construction sheds
In South Africa, security is always a concern, with the potential for criminals to plunder building sites for expensive tools, machines and materials. Sturdy, tamper-proof storage facilities, site offices and first aid rooms are therefore essential to a well-managed construction site.
Both our ready-made sheds and larger containers are lockable and tamper-proof.
Uses of Big Box IRB construction site sheds
Big Box sheds are versatile, multi-use solutions that can be used as:
hoardings; temporary structures erected around the perimeter of the site to prevent unauthorised access
secure storage facilities for construction equipment and supplies
portable and lockable site offices
all-weather lunch and tea rooms
workers' change rooms
first aid facilities.
Advantages of using Big Box's ready-made construction sheds for hire
The ready-made construction sheds we offer have these advantages:
Versatile: At 3.4 metres long and 2.1 metres wide, Big Box sheds are ideal for a wide range of uses, and for fitting into limited space on sites. Multiple sheds can be combined to provide more space.
Portable: The dimensions ensure the sheds are easy to transport and relocate from site to site.
Extra tough: Big Box sheds are built using top of the range double-coated 0.8mm IRB steel.
Water-proof: The square fluted profile of the IRB plating on the roof maximises water drainage.
Sturdy: The 280 kg sheds are strong, sturdy and tamper-proof.
Multi-use: Big Box construction site sheds are practical solutions for a range of onsite requirements.
Please note that our ready-made construction sheds are available in Gauteng only. Contact our Johannesburg offices for more information, or request a quote online.
For those outside Gauteng, all our branches – including our Cape Town branch – rent and sell high-quality shipping containers, which are ideal as storage facilities or for converting into site offices or ablution blocks.
Contact BigBox today for a free quote!