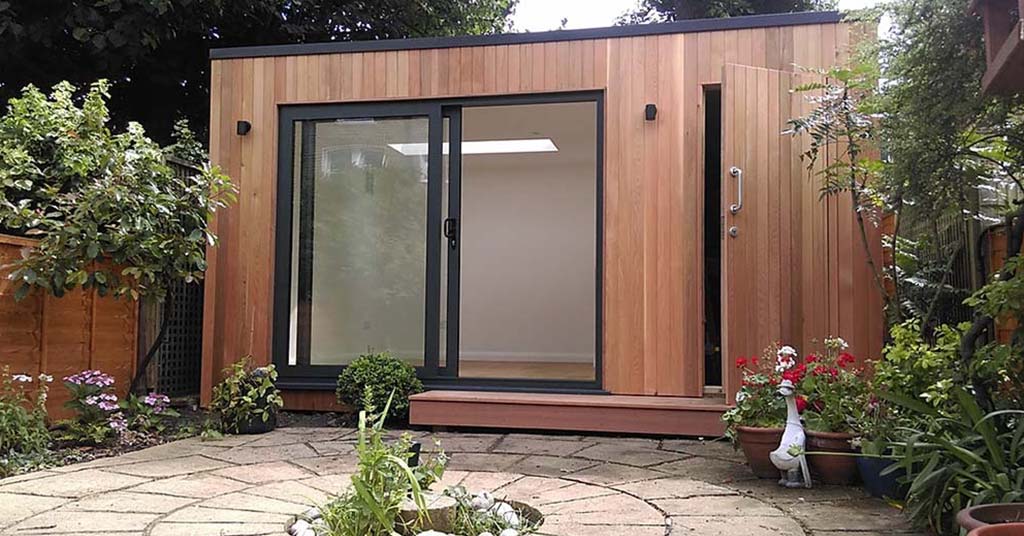 Shipping containers are ready-made structures that can be transformed into delightful living and work spaces.
Here are eight container garden offices and rooms that will inspire you to think out of the box.
1. Green-roofed garden office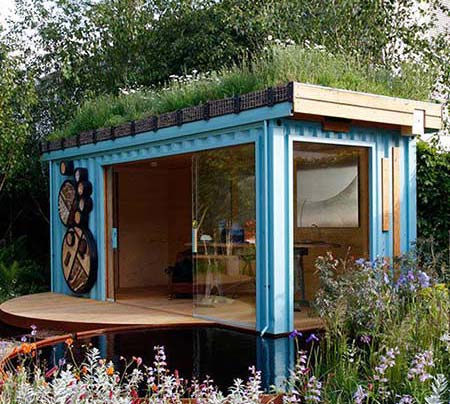 This outdoor office features a rustic habitat wall and planted roof garden, with rainwater running off into a pool that surrounds the outdoor office.
The roof-top garden could double as a nursery or a fresh food resource. It's an example of a  sustainable building that harnessess the environment.
2. Bespoke garden office
This garden container office provides the perfect synergy between practical productivity and the serenity of nature.
The container exterior is clad in wood to promote the ambience of a cultivated wilderness and sliding glass doors allow in loads of air and light.
3. Industrial chic garden room
The matte black exterior gives this upcycled shipping container industrial chic and graphic style.
Windows and sliding doors have been installed in one end and almost the entire front side to "bring the outside in".
4. Cute compact office
Designed for easy installation, this container backyard office is ideal for a small team.
It's finished with solid wood interior walls and ceilings. It also features large glazed windows, blinds and plush carpeting.
Fixed windows supply plenty of light and a view, and the end doors can be opened for space and fresh air.
5. Port-a-bach house pod
This container has been converted into a cleverly designed compact dwelling that can accommodate two adults and children.
Inside, there's a fabric partition system that allows the inhabitants to create smaller rooms within the large open volume. One entire side drops down to create a veranda for inside-outside living.
It's furnished with bunk beds, a double bedroom, dressing area, kitchen and composting toilet.
6. Cantilevered container office
This design takes container offices to a whole new level – off the ground.
The conversion to house architect Patrick Bradley's office maximises the material origins of the container while still "making the aesthetic result more than the sum of its parts".
The design leverages the strength of the container to cantilever it out over a steep-sloping cliff.
Bradley incorporated the end openings, which meant fewer cuts in the surface of the container. This was both an energy-saving and cost-effective move.
One end was used to create an entry and the other a balcony. Simple cladding transformed the exterior appearance.
7. Pop-up office workspace
It's the hinged doors and sides that set this office apart. They quick and easily pop up to allow in light, or pop down to extend the floor space.
Cool, contemporary and portable, this pop-up container office has ample room for working, networking and chilling.
8. Family garden retreat
The container aesthetic was retained in this garden-room conversion. However, its edges have been softened with a garden on the roof.
Floor-to-ceiling sliding windows, air conditioning and ample seating provide light and comfort.
Renewable bamboo floors and walls help to create a flow between the container garden room and surrounding garden. The wall panelling works as insulation to keep the interior cool.
What we offer at Big Box Containers
At Big Box Containers, we rent, sell and convert high-quality shipping containers for a range of purposes, including container offices.
Thinking of investing in one of these container garden offices or rooms? We can customise containers to include windows, doors, flooring, insulation, air conditioning and more.
We don't offer complex conversions like those involved in building homes. However, we can work with your team to meet specialist requirements, and help with some of the basics for container garden offices and rooms.
Contact us online or call us on 0861 447 474 to discuss your needs.
Contact BigBox today for a free quote!