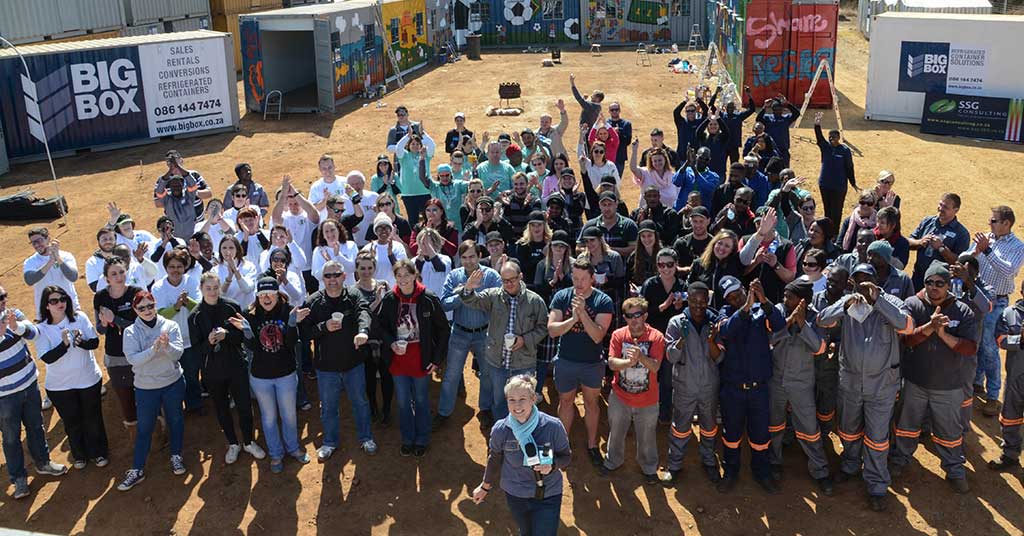 On Mandela Day this year, Big Box Containers joined seven other companies in painting donated shipping containers for use in a crèche that's to be constructed in the informal settlement, Woodlane View – commonly referred to as Plastic View.
SSG Consulting, ATTBuild, Nancefield Auto Paints, Ecsponent Limited, VDT Attorneys and SPAR Northrand made up the other seven teams that participated in painting the containers, as well as donating towards the initiative.
The teams started painting at 10 am at Big Box's Pretoria offices in Gateway Industrial Park.
In keeping with the Mandela Day tradition, the teams were required to complete their masterpieces within 67 minutes.
The results were colourful and inspiring.
How the initiative started
Located in Moreleta Park, Pretoria, the Plastic View informal settlement is an eight-hectare strip of land, currently housing an estimated 5000 to 7000 residents.
Hundreds of children below the ages of six live in the settlement. Due to poverty and lack of formal infrastructure, many of these children lack proper nutrition, healthcare, schooling and even access to basic sanitation.
GROOTfm visited the settlement with non-profit organisation SA Cares for Life , and the decision was made to support the building of a crèche.
Big Box Containers joined the initiative after being approached by GROOTfm. In March, Big Box donated eight converted shipping containers to the project. SSG Consulting and ATTBuild each donated R100 000 towards insulation of the containers.
This is only the beginning
The painting of the containers is only the first phase of the project.
The school still needs to be equipped with furniture and other items such as books, stationery and crockery. Other funding, to cover teacher salaries, is also still needed.
The containers are scheduled to be delivered to Plastic View by August, with official set-up of the school in September or October. The training of the care-givers and educators who will work at the crèche is planned for November to December.
Big Box Containers will continue to be involved in this exciting initiative as it develops.
Contact BigBox today for a free quote!