Big Box Containers, a leading South African company that specialises in the supply and hire of high-quality new and refurbished steel containers, has been making a big difference in the lives of school children across the country. The presence of Big Box Containers has provided much-needed relief to schools facing additional space, storage and ablution constraints. With its help, educational facilities have been able to expand their required facilities leading to more comfortable conditions for students and teachers alike. In this article, we will explore how Big Box Containers has contributed to the improvement of education and the day-to-day running of various schools across South Africa.

The versatility of Big Box Containers
Big Box Containers are used for various purposes at a number of schools in South Africa. In the Western Cape alone our containers can be found at seven different schools:
De Hoop Primary School in Somerset West acquired their container in 2021 to store and distribute food parcels to parents who were financially affected during Covid. It has since been used as a 2nd hand-school clothing storage facility where parents can purchase gently worn school clothing at a fraction of the cost.
Beaumont Primary School in Somerset West has two containers on their school grounds. The first serves as a storage facility for sporting equipment next to the Astro sports fields and the second is home to local barista experts, Merkava Coffee Roasters, from where they serve their community with delicious blends of coffee.
Eikestad Primary School and Bloemhof Girls' High School in Stellenbosch use their containers as storage facilities.
Next to the sports fields of Paul Roos Gymnasium in Stellenbosch boasts 6m and 12m pavilion containers from where their young men can cheer on their teammates during school and club matches, tournaments, sports days and other events.
Big Box converted a shipping container for Paarl Boys High School to serve as a medical centre from where their Physiotherapist can work her magic on sports injuries. Converted features include a door, windows, flooring, insulation, lighting, electrical points, air conditioning, and security bars.
On the grounds of Stellenberg High School brags a 6m dual office and storage container. These units are affordable, customisable and easy to relocate.
A number of Gauteng Province Schools also sport a Big Box Container on their school grounds:
Afrikaanse Hoër Meisieskool in Pretoria was able to grow and expand in a quick and affordable way by building an ablution block container customised to fit in with the rest of the school's appearance.
St Stithians Boys' College, situated on the border of Randburg and Sandton, wanted to enhance its educational programmes and facilities. A Big Box storage container was acquired for this college's basketball team giving the team a secure space to store their equipment.
Witpoort Primary School in Garsfontein converted two office containers into a reading centre from where their scholars can experience the joy of reading, learn new vocabulary and improve their focus and imagination.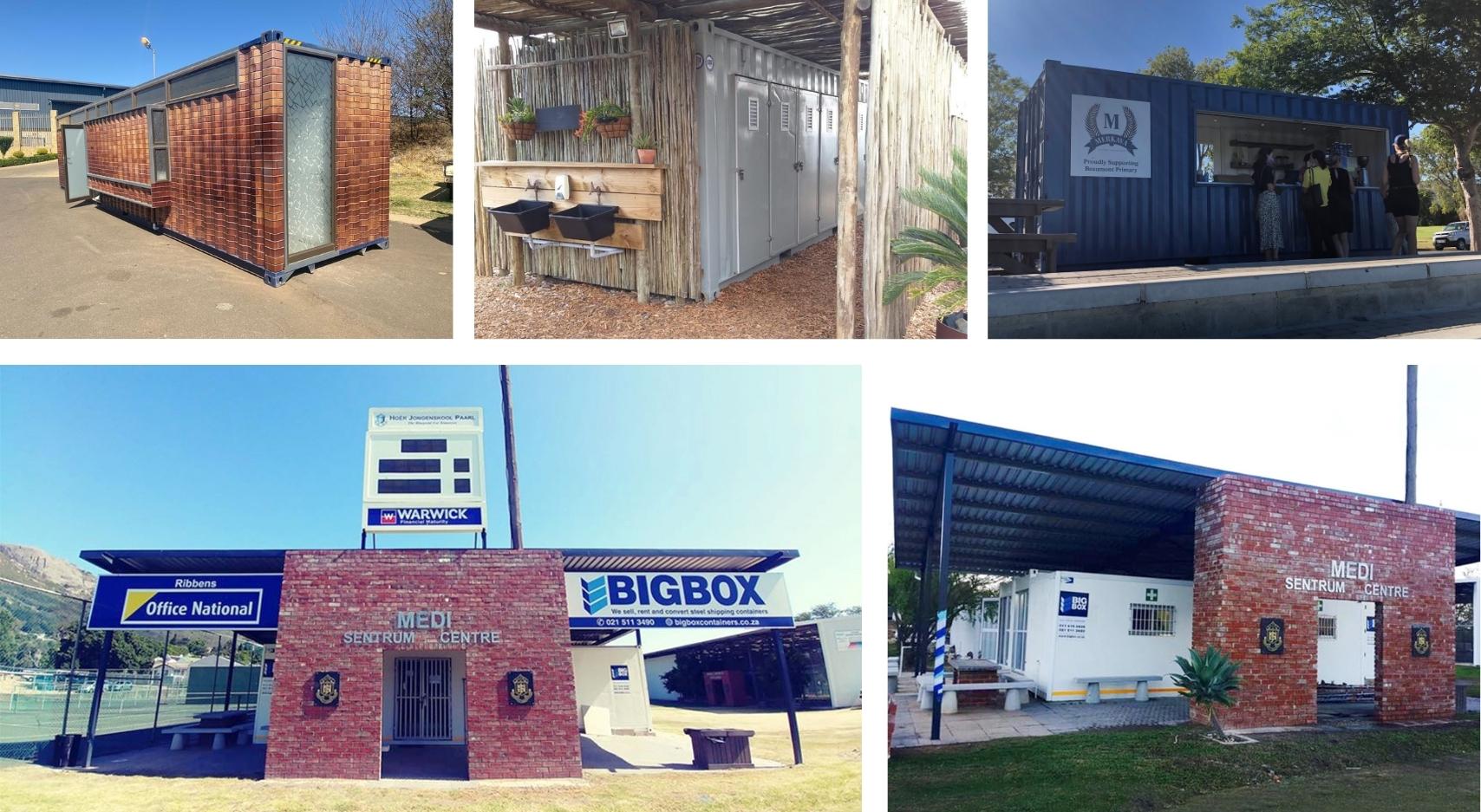 Benefits of having a Big Box Container at your school
When it comes to having a big impact on school grounds, there is no denying that having a Big Box Container can make all the difference. Here are some of the benefits that come along with having a container at your school:
1. Ample Storage Space
One of the biggest benefits of having a Big Box Container at your school is the ample storage space that it provides. Having a designated storage area for things like sports equipment, textbooks, and other materials can be incredibly helpful in keeping your school grounds organised and tidy.
2. Cost Saving
Another big advantage of opting for a Big Box Container over traditional facilities is that these units are affordable, customisable and easy to relocate. No building costs and no such thing as buying or adding fixed premises.
3. Customisation Options
When it comes to a container, one size does not always fit all. Fortunately, with Big Box Containers, you have the ability to customise your container to meet your specific needs. Whether you need additional windows, doors, flooring, or electrical outlets or want to add partitions to create separate compartments, there are plenty of customisation options available to make sure your container is just right for your school's needs.
Big Box Containers is one of the biggest privately owned container rental, sales and conversion companies in Africa. It has branches in Cape Town, Johannesburg and Pretoria. We are happy to customise containers to meet clients' specific needs. We're experts at preparing containers for a range of purposes, from offices to event spaces, kitchens and ablution blocks. Visit our website at www.bigbox.co.za or call 0861 44 74 74.