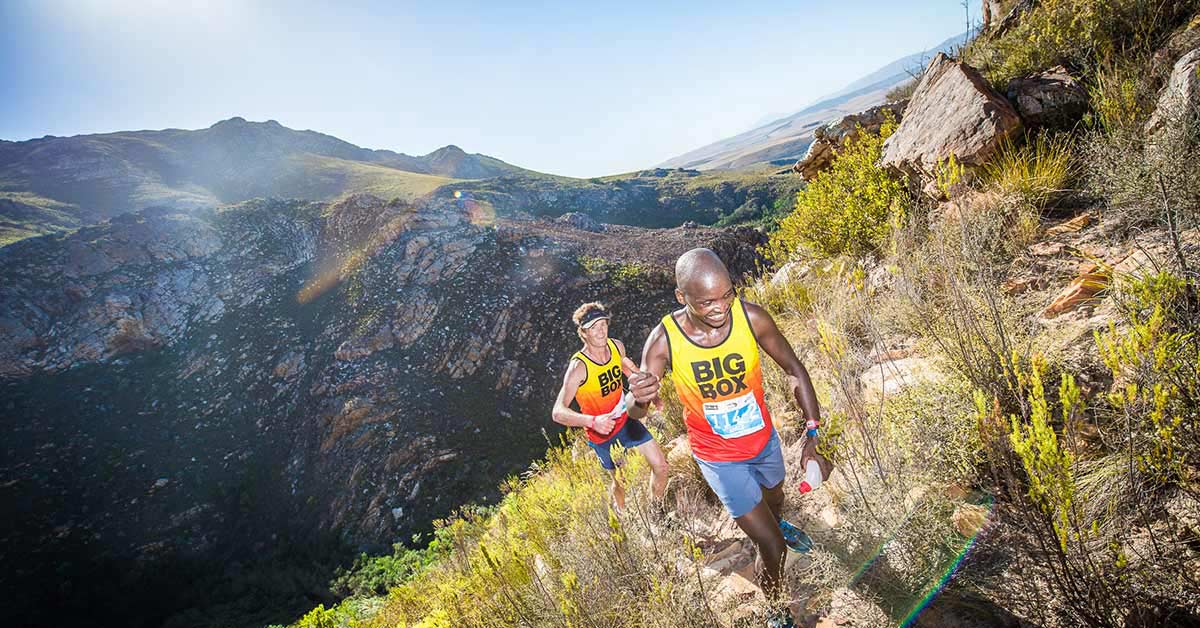 At Big Box Containers, we're delighted to support several cycling, running and swimming events across the country – and one of the most exciting each year is the AfricanX Trailrun.
The AfricanX Trailrun is trail racing at its best, through some of the most stunning scenery in the Western Cape. It's staged over three days, with competitors running trails that span the rugged mountains, vineyards and picturesque valleys of the Overberg, for a total distance of just over 90 kilometres.
Our team at this year's Cell C AfricanX Trailrun, in pictures
We're awfully proud of the Big Box team, Anele Mnukwa and Francois Groenewald.
Anele and Francois learned of their sponsorship and started training for the race just two weeks before the event. In previous years, Anele, who works as a petrol attendant, couldn't afford the race entry fee.
During their training, Anele unfortunately fell and injured one of his legs. Then disaster hit a second time. He was on his way to a training session when he was attacked by seven men, who stole his shoes and watch.
Despite the setbacks they faced, Francois and Anele not only finished all three stages of the race, but secured positions 44 and 45 out of a total of 293 entrants.
Special kudos to Anele, who won this year's Sanet Wentzel Spirit Award. The award, which honours the memory of trail runner Sanet Wentzel, is given each year to a runner who shows incredible perseverance in the face of adversity.
2017 Cell C AfricanX Trailrun results
Our congratulations to the overall winners of the 2017 event:
Edwin Sesipi and Givemore Mudzinganyama of team ASICS Boys Gauteng in the men's open (total time 6:43:06)
Landie Greyling and Megan Mackenzie of team Salomon Blondie in the women's open (total time 8:11: 54)
AJ Calitz and Nicolette Griffioen of team K way Nedbank in the open mixed race (total time 7:38:04).
Well done to everyone who participated in this gruelling but deeply satisfying trail race. See you again for the AfricanX Trailrun next year!
Contact BigBox today for a free quote!