Some companies might find it hard to work consecutively on two major events, but not Big Box Containers.
Every year, thousands of mountain bikers respectively participate in the ABSA Cape Epic and FNB Wines2Whales. These two mountain bike events are the ultimate test of endurance. Rider traverse some of the Cape's most brutal (but spectacular) terrain in the process. Big Box Containers have been involved with these events by offering additional rooms for logistical support.
This year, over a period of 3 weeks, 65 containers in total were moved to the respective ABSA Cape Epic and FNB W2W. A total of 45 containers were placed at FNB W2W while the other 20 containers were used at the ABSA Cape Epic. These containers are used for different purposes such as race offices, safe storage facilities, accommodation for staff and riders, and event boxes. The popular refrigerated water box is also a big hit at the event and supplies refreshing, ice-cold water at 2° C for all riders.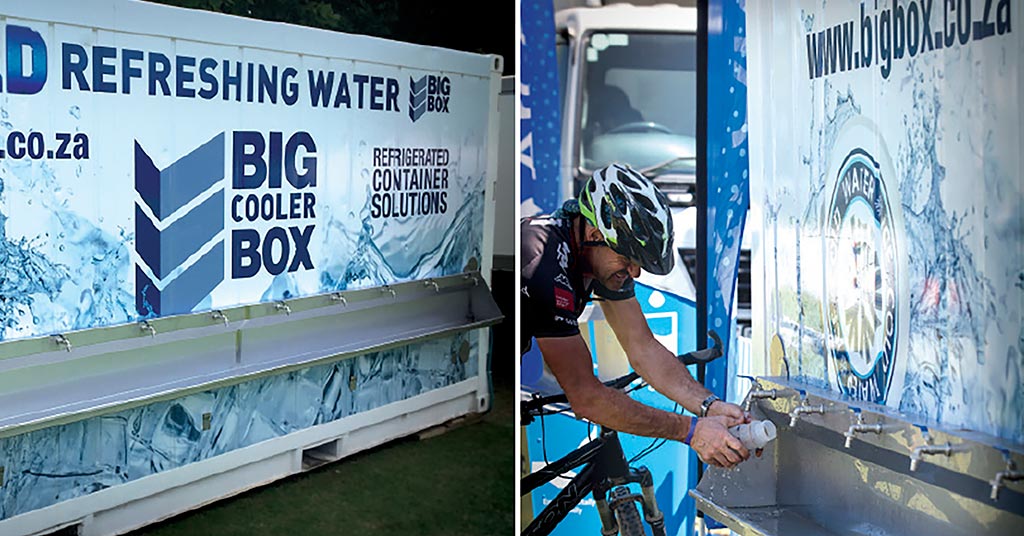 Our new Big Box single-phase refrigeration containers were specifically brought in to assist Woolworths to keep their products fresh and cold during the W2W event. This ensures that Woolworths can cater the very best to all the riders.
There are many advantages of using our new 220 V single-phase refrigeration containers. The organizers of ABSA Cape Epic and FNB W2W are most excited about the impact on the environment. With our new refrigeration solutions, both events will cut down on their carbon dioxide emissions and electricity cost.
The Oak Valley Wine Bar Container will also be seen at the FNB W2W. This is always a huge attraction point where riders can purchase wine and refreshments after the race.
Big Box Containers can cater for any event or project. Our rental period is flexible making use of Big Box Containers easy and accessible. We can handle the logistical requirements with ease. Your or project event is possible with Big Box Containers.
Contact BigBox today for a free quote!