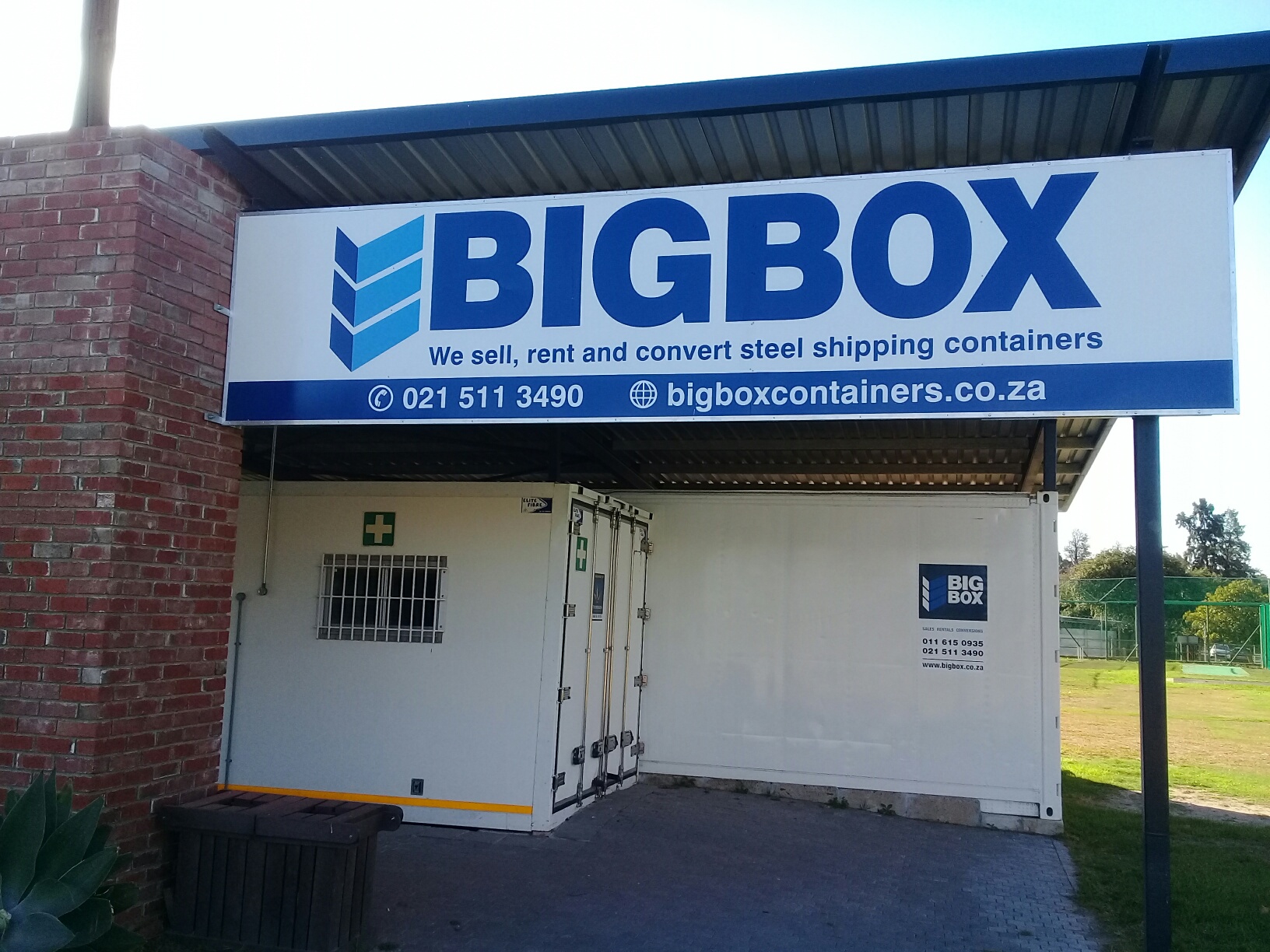 The Brotherhood of the Blue Blazer, Paarl Boys' High, is one of South Africa's oldest schools. Learners in this school value the traditions the school has laid out to them. The Big Box team was more than happy to be part of a school like Paarl Boys' High and its ongoing growth of tradition. Educational development is high on our list of investment partnerships and it has been a joy to expand their spaces.
At the school, Big Box containers are used in three different ways. The containers were installed to offer alumni the chance to purchase clothing, the sports teams get to have all equipment securely stored and even a medical centre has been designed to assist the learners daily.
The clothing store.
One Big Box container was installed behind the museum to serve as a neat and fully equipped clothing store. This is where the alumni can purchase supporters' clothing and memorabilia. A clever way to quickly set up shop, just where they wanted. Without any hassle and with all of the comfort!
The storage units.
A fitting way to create more storage at a sports field is, to add a Big Box container. At Paarl Boys' High they decided on a 6m x 3m container. It was placed at the Astroturf to provide secure storage and the look fits perfectly with the sporty vibe of the field. At the rugby field, another container was placed to serve as extra storage for the rugby and athletic equipment.
These Big Box high-quality storage containers are dry, secure and easy to relocate. Remember, you can rent these on a temporary basis or long-term. It is your choice.
The medical centre.
Using a Big Box container, the school was able to add a medical centre on the premises in 2015. During the week it gets utilised for therapy sessions with learners. When there are sport matches or practice, any injuries or rehab can be treated at this medical centre. Remember, all our storage containers feature double lockable doors, for security and ease of access.
"Big Box created a space for us as a medical team to work in a professional setup and fill an important medical role close to our sports fields" – Paarl Boys' High medical team.
Big Box Containers rents and sells and high-quality storage containers for a range of purposes. Contact us online or call us on 0861 447 474 for a quotation or to find out more about our storage containers or other container solutions.
Contact BigBox today for a free quote!