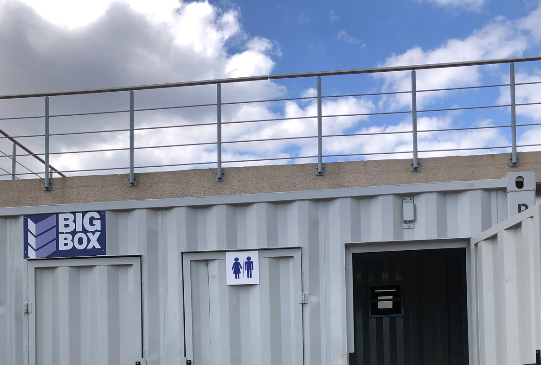 A major logistical challenge for any sports event organiser is arranging suitable ablution facilities. This typically requires very fast setup and dismantling of facilities, and may involve having to cater for large numbers of people.
If an event takes place in a remote area, or across various stages and terrains, the challenge can turn into an organisational nightmare.
What to consider during planning
Consider what goes into providing clean, comfortable and fully operational toilet, washbasin and hot and cold shower facilities for an event.
Calculating capacity
Providing ample ablution facilities is central to an event's success. You don't want people waiting for long periods to use the amenities, and you certainly don't want overflowing toilets.
A general guideline is one toilet per 100 people. If an event is expected to attract a higher percentage of women than men, it's best to increase this ratio slightly. Make sure the facilities are in accessible and high-traffic areas, and that there's adequate capacity to deal with peak-use periods.
Also plan for the worst-case scenario — malfunctioning loos. It's best to arrange for a couple of standby units and an onsite repairs technician.
Mobility
One of the biggest challenges is getting facilities to and from rough, outdoor areas. For example, mountain bike (MTB) and trail running events are often held in isolated or mountainous areas. Can the selected facilities be delivered to the required locations, without excessive cost or delays?
Weather-proofing
Catering for diverse weather conditions is another factor that demands special consideration. In hot conditions, and especially at sports events, an adequate cold water supply is paramount.
In wet conditions, facilities must provide suitable protection from the rain, and regular cleaning of muddy floors will have to be scheduled. In icy weather, units have to be properly heated.
Waste management
Proper management of waste is crucial, especially for multi-day events and those with high attendance. For both "porta-loos" and self-contained units, periodic waste removal has to be planned in advance, and generally involves a support vehicle of some kind.
Hygiene
Toilets, basins and, if required, shower facilities have to be cleaned frequently. Cleaning crews often have to be accommodated on the site to make this possible.
Quick set-up and removal
Ablution facilities must be quick and easy to set up and remove. There's usually only a small window period available before and after an event.
Container-based solutions for sports events
Big Box Containers offers ablution facilities that are ideal for sports and other events.
Rental of ablution containers for sports events
Created from converted 6- or 12-metre shipping containers, our ablution containers are:
sturdier and "classier" than other types of portable ablution facilities
fully portable and largely pre-assembled, making them ideal for sports events
weather and tamper-proof, with exteriors of marine-grade steel
fully customisable and, if required, available with built-in showers and hot water geysers.
We also offer smaller, 3-metre ablution facilities and single-stall portable toilets to customers in Gauteng.
Facilities in the ablution containers may be linked to a sewerage system or waste may be chemically disposed of, making the units suitable for sites that don't have existing infrastructure in place.
Ideal cold water dispenser for sports events
A refrigerated container, or "reefer", can readily be converted to provide athletes and event participants with a reliable supply of clear, refreshing cold water – even in isolated or rugged terrain.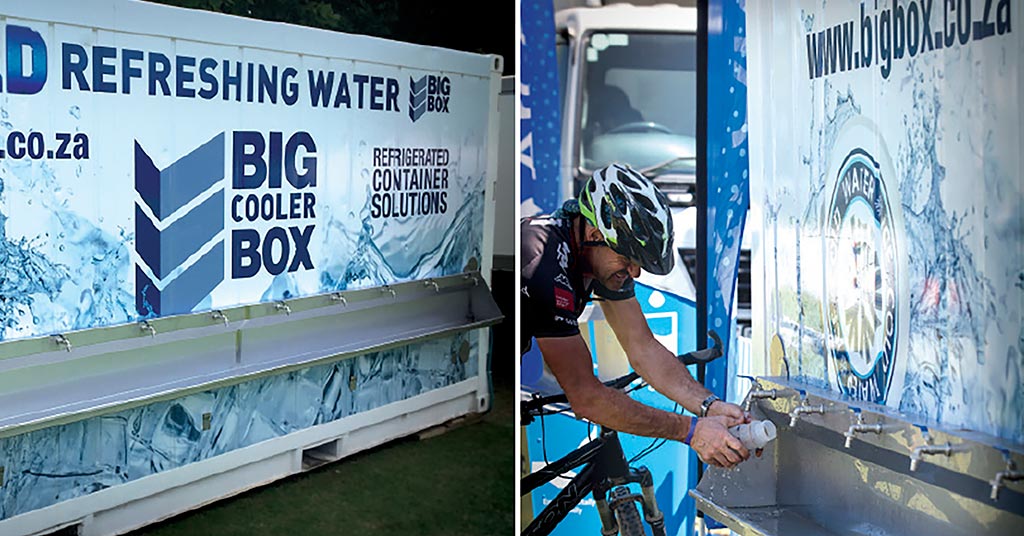 Hire of portable toilets for events
In partnership with Coastal Toilet Hire, Big Box Containers offers event organisers the convenience of renting individual portable toilets. These are durable, cost-effective chemical toilets, and weekly servicing is included in the price.
To discuss your needs or for more information about the ablution facilities we offer for sports and other events, contact us at Big Box Containers.
Contact BigBox today for a free quote!